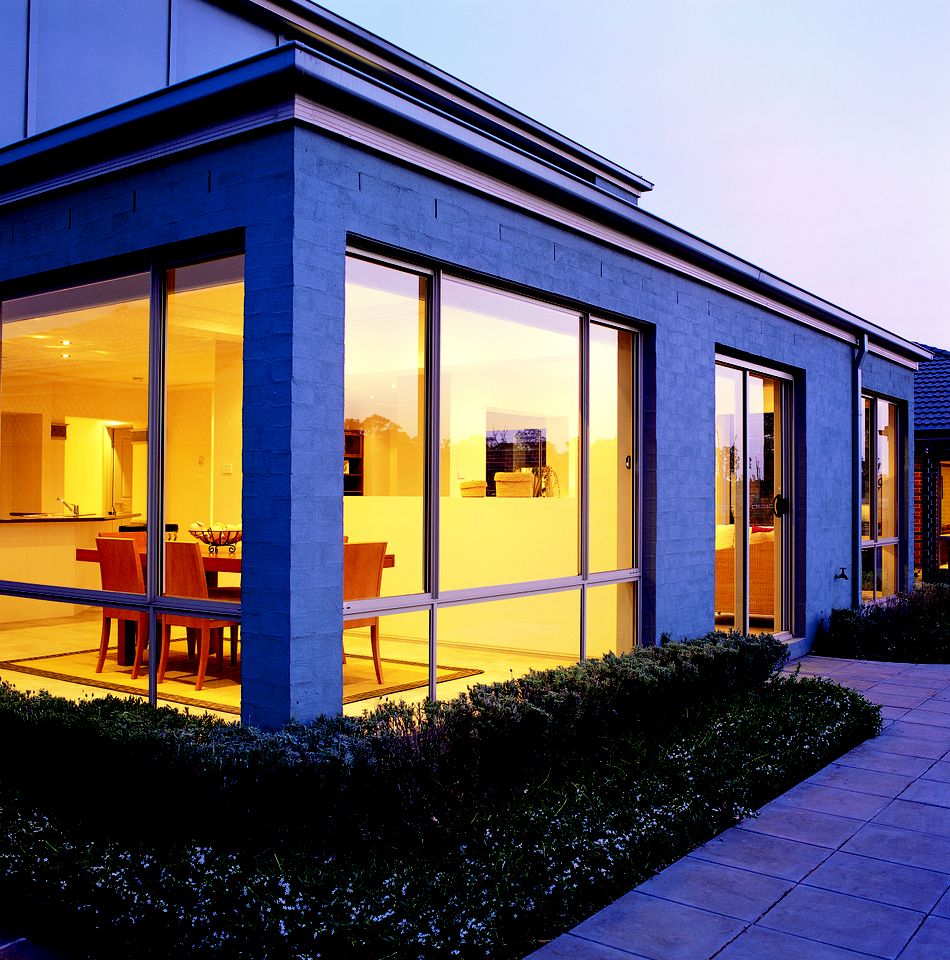 Aluminium Doors and Windows: 5 Ways They Improve the Value of Your Home
Aluminium windows and doors are used for all projects, big or small, from skyscraper to basement windows.  Even though aluminium is a common construction material used for both industrial and residential buildings, in the past it had a bad reputation.  Older aluminium doors and windows had one design flaw – they conducted heat and cold far too easily. However, as more people are looking for sustainable alternatives to vinyl, aluminium is at the top of the materials you should use in your next construction or renovation project.
Here are 5 ways aluminium doors and windows will improve the value of your home.
1.  Aluminium: Good for the Environment and Your Wallet
Using recycled aluminium reduces the initial investment cost to you and lowers the environmental footprint of building or renovating your home.
75% of all aluminium produced since it was first used as a building material is still in use, having been recycled over and over again.  Recycling reduces the cost of production and limits the number of pollutants expelled into our environment during production.
In fact, processing recycled aluminium only requires 5% of the energy needed to create aluminum from bauxite. Using recycled aluminium for your windows and doors will reduce the initial investment of installation, saving you money over time.
2.  Aluminium is Low Maintenance
A long life expectancy and low maintenance needs mean low future expenses to the up-keep of your home.
Aluminium has a lifespan of 20 to 50 years and is one of the strongest construction materials on the market. The alloys that create aluminium products are weather-proof, corrosion resistant and immune to UV rays, all of which prevent the material from deteriorating over time. This ensures a long lifespan and, as it ages, the use of the window or door will remain as easy in year 50 as it was in year one.
There are plenty of building materials that have the capabilities to last 20 to 50 years and withstand the elements. However, they require constant monitoring and maintenance to ensure that the material doesn't deteriorate or break. This is not the case for aluminium.
Windows and doors made of aluminium maintain their integrity during heavy winds, heat strokes, freezing cold temperatures and any other weather phenomena Mother Nature might want to throw at them. This means that aluminium windows and doors won't need to be replaced or repaired as often as other materials.
3. Aluminium: Durable and Strong
Aluminium is one of the strongest building materials on the market, making it ideal for a number of applications.  It was first used over 100 years ago as a replacement to other materials used for building reinforcement and decoration.
Because aluminium is a very lightweight material, it is ideal for applications where reducing the load on load bearing structures is important, such as skyscrapers and other tall buildings.  However, the combination of strength and lightness also translates well as an application for aluminium windows and doors.
You see, other materials like wood can add extra weight and increase the load on your home's structure. These other materials also tend to be thicker in profile in order to even come close to having the strength of aluminium.  Aluminium windows and doors have the benefit of strength and durability, while also maintaining a slim, clean profile.
4. Aluminium Improves the Quality of Life Within Your Home
Aluminium windows are popular for use in school buildings because they block out exterior noise. They also do not release carcinogenic dioxins or toxic gas or fumes when exposed to high temperatures. This keeps the air inside your home free of dangerous particles that might harm your family.
Aluminium's moisture resistance prevents water from seeping into the walls surrounding the window.  As a result, your walls will not require additional upkeep from mold or weakening in the frame directly caused by your windows.  The joints won't expand or contract based on the temperature, which means that the window won't shift and cause the glass pane to dislodge, or break the frame away from the wall of your home, preventing drafts.
5. Aluminium Opens the Design Capabilities of Your Home
We all want that beautiful home: the big bay windows that allow in copious amounts of natural light; the beautiful front entrance way that will be the envy of all of our friends; the colors that match just so and complement that surrounding landscape of our home.
These things are possible with other materials, but aluminium is the best suited to bigger, custom projects.  Its inherent strength coupled with the flexibility of the material makes it easily manipulated during production.  It won't bend or snap under the weight of the glass required for those wall to wall, ceiling to ceiling windows. That is why it is commonly used in skyscrapers.
Aluminium can be colored without affecting the composition of the material. It will still retain its inherent integrity, except it will be green or blue.  Even black and brown are possible – two colors that aren't common for windows and doors, since they absorb heat and can cause warping in other materials.
Financially, aluminium doors and windows are the best option of all the construction materials available on the market. Their low initial investment requirement, through the use of recycled aluminium and minimal maintenance will keep your home affordable for years to come.
Aluminium doors and windows will ensure that your home remains energy efficient, saving you money on heating and cooling bills.  The durability of the material creates a safe living environment in your home and ensures that the walls that keep you safe and secure will continue to do so. Last but not least, aluminium windows and doors open up your design options, allowing you to craft your house around large, attention grabbing front entrance ways and bay windows that will be the envy of all of your friends.