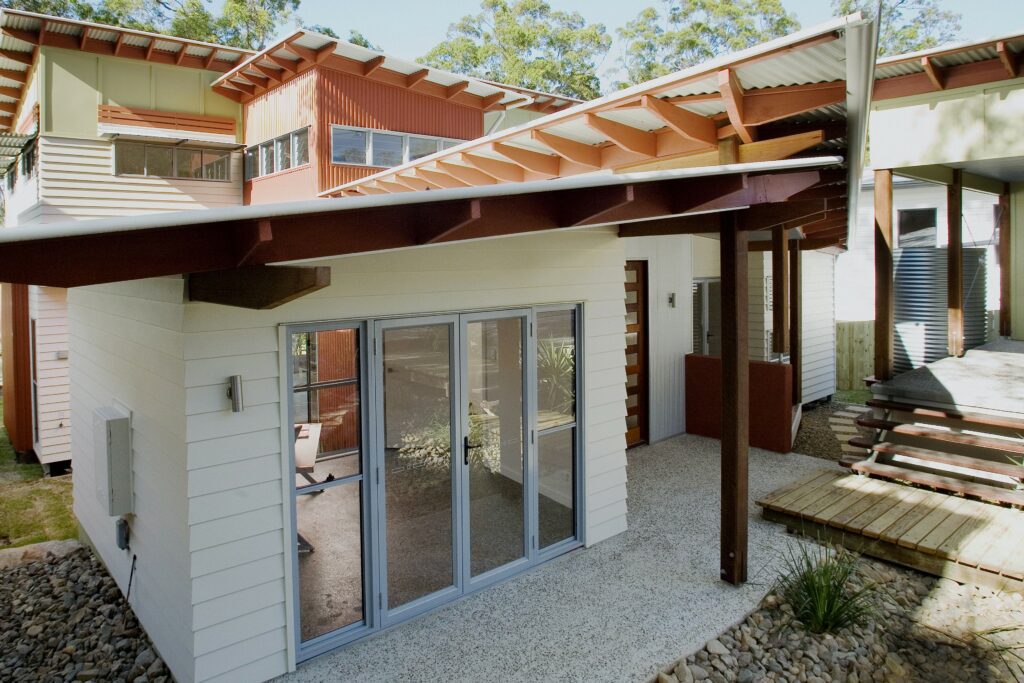 4 Areas to Install Aluminium French Doors
French doors, also known as hinged or swing doors, offer elegant simplicity for your doorways and outdoor area access. While aluminium french doors can be used in a variety of ways, in a multitude of rooms, we've listed our 4 favourite placements below to spark some inspiration if you're looking at building a new home or renovating your existing property.
Bedroom Terraces
If you've got a terrace or balcony adjoining your bedroom, like a townhouse for example, then installed an aluminium french door is a perfect way to simultaneously make the most of the view, and the most of the space. As the french doors allow you to decide which way they swing open, either internally or externally, you can open the space up wide and not interrupt the outdoor living area. Unlike bi-fold, stacker, or sliding doors, french doors can be installed in smaller openings and open from the centre of the space, so there's no need to have a wider opening to accommodate the doors.
Small openings
As detailed above, french doors open from the centre and thus require less physical space for installation. As they're hinged on either end, they open up the entire cavity they occupy which makes them ideal for smaller openings and spaces. Many apartments, smaller homes, and older style homes will have smaller openings that don't fully embrace an open plan living style. Installing french doors can provide extra light, plenty more airflow, and add a sophisticated modern touch to your property.
Sheds and storage areas
Given the ease of use and ability to open the entire space they're installed in, french doors are perfect for rooms that you frequently use to store items, particularly bulky ones that can be difficult to maneuver in a single space doorway or will cause damage to the tracks of a bi-fold, stacker, or sliding door. When using french doors for this purpose, ensure that your hinges are installed so the doors open externally, ensuring you can make the most of your storage space.
French front doors
French doors make for a great front door to your property, particularly in scenic areas where you want the views and light to have free passage through the property. Furthermore, the modern and elegant aesthetic presents a beautifully inviting image to your guests. We would however recommend this for properties that are set back from main roads to ensure you don't sacrifice privacy for style.
Aluminium french doors | BetaView
This is just a handful of ideas of where to use aluminium french doors, but we hope we've sparked your inspiration and opened the door, pun intended, to some imaginative ideas of your own that we can discuss with you during your complimentary consultation and quote. If you're considering aluminium doors or windows, choose BetaView for professional service, hassle-free installation and the highest quality local manufacturing. Get in touch today on 1300 938 758, by completing our online form, or visiting our state-of-the-art showroom in Dale Street, Brookvale.