French Doors
Aluminium French doors, sometimes referred to as hinged doors or swing doors, are an elegant way to improve the thoroughfares of your Sydney home and are available in both single leaf and double leaf options. BetaView's aluminium French Doors can make your home feel larger without having to renovate or extend your space, and they lend an air of sophisticated grandeur to both the indoor and outdoor areas of your property.
Aluminium French doors open up wide to allow easy passage from the outdoors into your home, making them a popular choice for areas such as the backyard, garden, terrace and patio, and even large balcony areas. Aluminium French doors can also be installed internally, and they can be configured to swing either inwards or outwards, depending on your space requirements and the look that you prefer. Outward swinging doors are an ideal choice for outdoor terraces, while inwards-swinging doors help to give a resort vibe to a room with an adjoining balcony.
To view the quality of our aluminium French doors for yourself, come to our Sydney showroom and enjoy a coffee on us!
Learn more about our full range of aluminium windows and doors available in Sydney.
10 YEAR INSTALLATION & 3 YEAR PARTS WARRANTY
PERSONALISED QUOTE & EXPERT ADVICE
14 STANDARD COLOUR CHOICES
PROFESSIONAL INSTALLATION
SYDNEY-BASED TEAM, FACTORY & SHOWROOMS
Features of Aluminium French/Hinged Doors
Aluminium French and hinged doors custom made to order

Traditional French and hinged doors have been given a modern twist at BetaView. Our aluminium windows and doors are sleek and modern, and come in a range of eight different colours which will suit both the interior and exterior of your home perfectly. Each set of doors is made to your home's exact measurements and can be fitted easily to almost any existing wall or doorway area.
Make the most out of your home's living space
With BetaView's Aluminium French Doors, you have the option of double leaf or traditional single leaf, as well as the option to configure your doors to swing inwards or outwards. If you have any questions, our experienced team is available to help you decide which configuration will best enhance and maximise your space.
Combine your French doors with aluminium windows
French doors can be installed with adjacent window and door configurations to create a look and feel that you'll love.
Easy to clean and maintain

BetaView aluminium doors are designed to be easy to clean and maintain. With no re-lacquering or re-painting ever required to keep them looking fresh and new.
Expertly crafted French doors manufactured in Sydney

BetaView has been manufacturing French doors at our Sydney factory for over 25 years. They're manufactured using the highest quality, Australian-made construction materials, and installed at your home by accredited professionals.
Superior strength and durability with lower maintenance requirements

Aluminium French doors offer many advantages when compared to other construction materials like timber or other wood types. Aluminium French doors provide greater structural stability, durability and lower maintenance requirements, and a BAL40 Bushfire rating if you are concerned about fire safety.
Our aluminium French doors all come with both a seven-year installation warranty and a three year moving parts warranty.
Click here for 15 facts you didn't know about aluminium.
Customise your Aluminium French Doors
Betaview aluminium French doors are available in a range of 14 colour options, and you can also choose from a range of glass glazing options, from low-e glass to reduce your cooling and heating costs, to obscured glass for areas where you want a little more privacy. View the colours and product range in our Sydney showroom.
Download the PDF featuring all of our latest colour options >>
Exterior French doors – over 25 years of experience
Depending on your home's space requirements, we offer French windows in a range of different configurations to create the exact look that you want.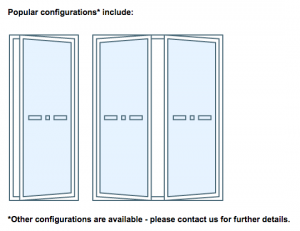 Expert Installation
All of our French doors are installed by a fully qualified builder or carpenter in order to ensure that your windows and doors are totally watertight, dustproof, and uphold their BAL-40 bushfire rating. We also offer a supply-only service for those who prefer to work with their own builder to install the doors or windows.
| | Supply Only | Supply & Installation |
| --- | --- | --- |
| Premium aluminium windows and doors manufactured to order at our Sydney factory | Yes | Yes |
| Professional installation team - qualified window specialists and members of the Australian Window Association, Master Builders Association and HIA | - | Yes |
| Accurate lead times – to assist with your planning | Yes | Yes |
| Consultation – to discuss and understand your specific requirements | - | Yes |
| Check Measure – to ensure everything is manufactured to the exact size | - | Yes |
| Installation supervisor - to manage and coordinate all areas of the work from manufacture to install and service | - | Yes |
| 10 year warranty covering all installation related workmanship | - | Yes |
| 3 Year warranty on all moving parts | - | Yes |
| Tidy and rubbish removal including disposal of your old windows | - | Yes |
| Delivery | Yes | Yes |
| Public liability cover | Yes | Yes |
Aluminium French Doors Price Guide
Get detailed advice and a quick, comprehensive quote; call us now on 1300 396 073 or complete the contact form on this page and we'll call you right back.
Because aluminium French doors range in price based on size, style, glass type and installation requirements, our team offer a free quote service, Sydney wide. You will receive a detailed quote showing French door prices based on your exact requirements and an obligation free consultation. And in most cases, your quote will be ready same day – often on the spot.
Read more about our pricing process.