Sliding Windows
Functional and easy to operate
Specifically designed to improve both the interior and exterior of your home
Custom made specifically for your requirements
Available in a wide range of colour, glazing and sizing options
A popular choice among homeowners looking to replace or upgrade existing windows
New aluminium sliding windows professionally installed by our Sydney installation team will increase the comfort, look, and value of your home. Each installer is a fully qualified builder or carpenter and understands the importance of great customer service.
We have a number of different aluminium sliding window options and prices. We have our 52mm Essential (residential) and also our 67mm and 100mm Signature (semi-commercial). The measurement refers to the depth of the window.
Sliding windows are a type of window configuration that features both a fixed panel of glass and one or more moving panels. The window is opened and closed by sliding the moving panel of the glass horizontally left or right.
Working well throughout most rooms in the home, BetaView's easy-living sliding window designs work particularly well in rooms with limited space, such as in bathrooms, kitchens, and utility areas. They're a classic and extremely popular style of the window due to their simple, functional, and streamlined design, with no panes of glass to impede on your indoor or outdoor living space while they're open.
Learn more about our full range of aluminium windows and doors available in Sydney.
4 Interesting Uses for Sliding Windows
10 YEAR INSTALLATION & 3 YEAR PARTS WARRANTY
PERSONALISED QUOTE & EXPERT ADVICE
14 STANDARD COLOUR CHOICES
PROFESSIONAL INSTALLATION
SYDNEY-BASED TEAM, FACTORY & SHOWROOMS
Advantages of Aluminium Sliding Windows
In addition to enhancing the overall functionality and look of your home, BetaView aluminium sliding windows are delightfully low on maintenance. Here's why sliding windows are a smart choice for your Sydney home:
Easy clean track for smooth operation

The track on our sliding windows allows for easy cleaning with a vacuum cleaner, while accurate engineering provides smooth and reliable movement. Open and close your windows with the slightest touch.
Anti-dust, anti-draft, and completely watertight

Our high-quality framing and professional installation techniques mean that your windows will be completely sealed, to help keep your home dust and draft free, as well as safe from any water leakage.
Complete ventilation with total home security

Want to occasionally leave your windows open for a touch of fresh air, but don't want to compromise the security of your front patio? Our 52mm Essential aluminium sliding windows from BetaView are fitted with 100mm keyed vent locks, which allow the window to be left partially open so your home can benefit from fresh air ventilation while remaining secure.
High performance weather protection

All of our aluminium sliding windows feature tested, full joint sealing, which ensures year-round protection against the elements. Our bushfire rated aluminium sliding windows are high on safety as they meet the BAL40 Bushfire rating, to handle extreme conditions.
Impeccable finishing and detail

BetaView sliding windows feature clear sightlines and concealed reveals, which allow the window to blend in with the original style of your home, without compromising on functionality.
Integrated flyscreen and security fittings

BetaView sliding aluminium windows allow for the discreet installation and removal of insect, safety and security screens at any time.
Tough components and lifetime materials

High quality aluminium, locks and other componentry mean your windows and doors stay stronger for longer.
Choose from stylish aluminium window frame colours
Our aluminium window frames are available in 14 standard colours. Your quotation will include any of the colours listed in our colour chart. From pearl white to black and from woodland grey to clear anodised, our aluminium window frame colours are perfectly suited to both traditional and contemporary Sydney homes.
Aluminium sliding windows in a range of glazing options
If you are looking for added energy efficiency and minimal outside noise, then double glazed aluminium sliding windows are an ideal choice. With a variety of other glazing options available on your bi-fold windows, you can achieve energy efficiency, enhanced comfort and safety.
Sliding windows – Sydney-based manufacturing

Your windows are accurately made to order at the BetaView factory in Sydney using our unique production process refined over more than 30 years.
Customised aluminium sliding windows for your Sydney home
BetaView aluminium sliding windows are available in a range of 14 colour options, and you can also choose from a range of glass glazing options, from low-e glass to reduce your cooling and heating costs, to obscured glass for areas where you want a little more privacy.
Download the PDF featuring all of our latest colour options >>
A number of configuration options to suit your needs
BetaView's sliding windows are available in a range of different configurations to suit your space requirements and personal preferences.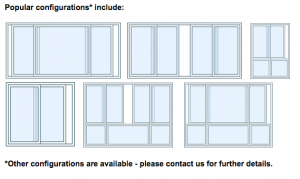 Expert Installation
All of our sliding windows are installed by a fully qualified builder or carpenter in order to ensure that your windows and doors are totally watertight, dustproof, and uphold their BAL-40 bushfire rating. We also offer a supply-only service for those who prefer to work with their own builder to install the doors or windows.
Learn more about our window installation service.
| | Supply Only | Supply & Installation |
| --- | --- | --- |
| Premium aluminium windows and doors manufactured to order at our Sydney factory | Yes | Yes |
| Professional installation team - qualified window specialists and members of the Australian Window Association, Master Builders Association and HIA | - | Yes |
| Accurate lead times – to assist with your planning | Yes | Yes |
| Consultation – to discuss and understand your specific requirements | - | Yes |
| Check Measure – to ensure everything is manufactured to the exact size | - | Yes |
| Installation supervisor - to manage and coordinate all areas of the work from manufacture to install and service. | - | Yes |
| 10 year warranty covering all installation related workmanship | - | Yes |
| 3 Year warranty on all moving parts | - | Yes |
| Tidy and rubbish removal including disposal of your old windows | - | Yes |
| Delivery | Yes | Yes |
| Public liability cover | Yes | Yes |
Aluminium sliding window prices
Get detailed advice and a quick, comprehensive quote for our aluminium sliding windows; call us now on 1300 396 073 or complete the contact form on this page and we'll call you right back.
As each aluminium sliding window differs in requirements, product selection and scope, our team provide free, detailed quotes Sydney wide. And in most cases, you will receive your quote on the spot during your initial consultation.
Read more about our pricing process.