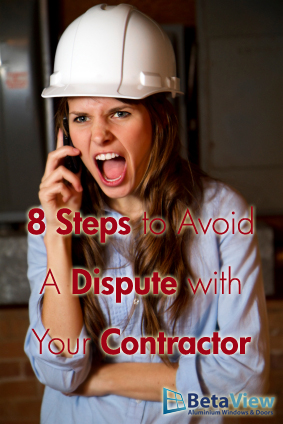 8 Steps to Avoid a Dispute with Your Contractor
Finding the right contractor isn't easy these days, especially if you're doing a big home renovation project that calls on specialized trades people to get the job done.  Whether working with an individual or a large company with many subcontractors, properly vetting your contractor can save loads of stress in the long run.
Even under the best circumstances, things can and do go wrong on home renovation projects.  For instance, a product that was ordered arrives damaged, delivery of materials is delayed or the wrong fittings and fixtures show up at the job site.  These are all common scenarios that can happen on any project but, what happens when things really go wrong? 
With a properly vetted contractor, small snafus won't snowball into a situation that's out of control.  So, how do you make sure that your contractor is just the guy (or gal) to handle your project?
It all comes down to asking the right questions.  Once you've narrowed down several contractors for the job, it's time to ask a few key questions that may well save you from a costly situation later on: 
Are you licensed and what is your contractor's license number?
Not asking for a contractor's license number is a common mistake that many homeowners make.  In their excitement to improve their home, many people are most concerned with how much the project will cost and how soon it can get done.   Don't let this be you.  
Finding your contractor's license number is easy.  If you've selected them from an advert, they must show their number on the ad by law.  You can also look them up on the NSW Fair Trading website where they maintain an up to date license database. 
If the contractor you were thinking of working with does not have a license, move on.  While having a license is not necessarily a guarantee of good work, dealing with an unlicensed individual or company may leave you with little recourse in the end should things go wrong.
Do you have insurance?
Another important question that many homeowners overlook is whether a contractor is insured or not.  This is for both your safety and theirs.  You see, a lot of things can go wrong on the work site; people can get injured and things can get damaged.
A contractor with insurance is someone who is prepared for the unexpected.  Whether it's an injury or damage to your home, accidents can and do happen.  When a contractor carries insurance it shows that they operate with responsibility and value you, your home, themselves and those who work for them.
There are several types of insurance that most contractors should carry.  They include professional indemnity, public liability, home warranty, workers compensation and contract works insurance.  In addition to making sure your contractor is covered, the Fair Trading website also suggests checking to see what your insurance or homeowners' policy covers as well.
 What sort of contract will you use?
When you're ready to sign and seal the deal, your contractor will likely have you read and sign a contract several pages long.  If they don't, beware you may be dealing with an unscrupulous contractor. 
By law, you must use a written contract if the cost of materials and labour exceed $1,000.  In most cases, this means you'll be using a contract for just about all of your home renovation projects. 
Contracts are not something to feel intimidated by.  In fact, they are there to protect you in the event that things go wrong.  Make sure you read through your contract carefully before signing.  The Fair Trading website has an excellent contract checklist that outlines what to look for and also provides several downloadable plain English contracts for use as well.
What to Do If Your Contractor is A Dud
Hiring a contractor is like getting into a serious relationship.  You might have a working relationship with this person or company for a month or a few years, depending on the scope of your project.  And, though we like to think the best of our partners, things happen and your contractor may not turn out to be the knight in shining armour you thought he was.
So, what can you do if you find yourself involved in a dispute with your contractor? 
The Fair Trading website outlines five steps that you can take to get back into good terms or at the very least, resolve your issues so that you can move on and get the job completed.  
Talk about it: Start out by talking with your contractor to see if you can reach an agreement and move forward.  If something concerns you, bring it up right away, don't wait until things get out of hand.
Write a letter: The Fair Trading website suggests writing a letter about your conversation to your builder and keeping a copy for yourself as a record.  Make sure to outline the details of your agreement so that both of understand what is to be done.
Contact Fair Trading: Most renovation disputes that arise between a homeowner and contractor are the result of miscommunication on either one or both parts.  The first two steps usually clear these up and the project continues without a hitch.  But, in the event that you need to take further action you may then contact the Fair Trading Association to assist in your dispute.
Notify your  insurer: If the work done falls under a warranty and is defective, you'll need to notify your insurance company to make sure you aren't held responsible for damages.
Get a building inspection: The Fair Trading Association has a staff of trained and qualified building inspectors that can help you resolve your dispute.
You can find out more about the steps to take in resolving a dispute and protecting your assets on their website at https://www.fairtrading.nsw.gov.au/