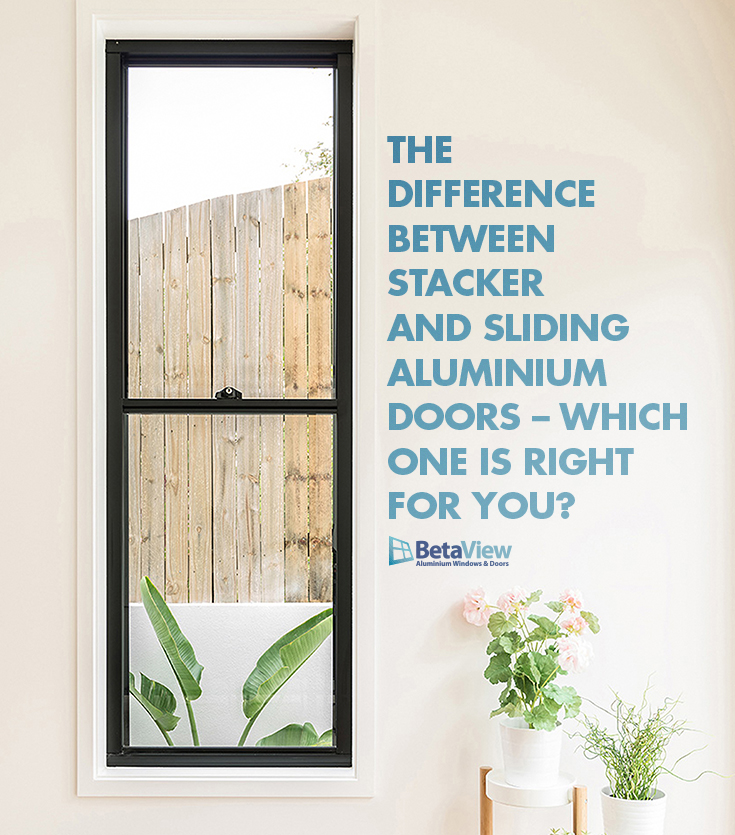 The Difference Between Stacker and Sliding Aluminium Doors – Which One Is Right For You?
Renovations and new construction both likely will present you with some hard decisions. What kind of windows and doors should you get? Well, when it comes to doors, if your home boasts entry and exit ways with a large amount of glass space, both aluminium stacker and sliding doors are an option. Some people think that these two options are interchangeable, one and the same. However, there are differences between each type of aluminium door.
The Difference
Sliding doors are often installed where access is desired for patio areas. This type most commonly has two glass door panels – one is stationary and the other slides open and closed along a track. There is often a sliding flyscreen to cover the opening so you can enjoy a fresh breeze without flying insects coming into your home.
An aluminium stacker door can be classified as more of a specific category of door. The stacker has more than one sliding panel. The most common configuration is one fixed panel and two sliding. This allows you to open up more area than with a sliding door. You also have the option of flyscreens as you do with a sliding door. You can get this type of door in a variety of configurations which provide the ability to cover wider openings.
Opportunities for Use
Both the stacker and sliding doors are a great way to experience a more open space, particularly for entertainment. Have you ever wished that you had doors that open widely for parties so that guests can easily mingle between the indoors and outdoors with ease? These doors could also be used in larger indoor spaces as well. Either way, they offer better flow and visibility and fit within a number of design schemes.
When choosing between the two door design options. You may want to consider making existing doorways bigger. However, you need to be aware that depending on the amount of structural work required it could have a significant impact on the price of the project.
Do you want that feeling of openness but have a lack of space? Aluminium sliding doors would be best. However, if you have a dynamic, wide space, then stacker doors are the best choice for your door needs.
Stacker vs. sliding … both offer similar benefits. If you want doors that fill a wide doorway with uninterrupted openings though, choose the stacker when shopping for your aluminium doors and windows.
---
< Previous What To Pay For Different Types of Aluminum Doors Next >