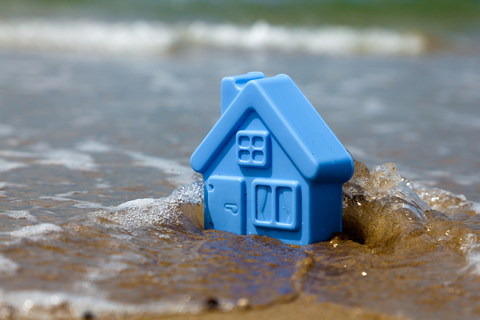 5 Tips for Floodproofing Your Home
During the storm season in Sydney, homeowners can really find themselves in a quandary if they haven't prepared their homes properly. Heavy rains can cause flooding, leaks and water damage in addition to a more than a few inconveniences.
For homeowners, the best time to think about preparing for Sydney's storm season is before it happens. In fact, winter time is the best time all year to get your home up to date for the coming spring. With that in mind, here are our top 5 tips to getting your home in tip top shape for storm season and year round.
Check Your Home for Damage
Whether you live in an area that's prone to heavy rain and flooding or not, this is a great tip to keep in mind. Periodically checking your home for signs of damage can save you a huge headache because it gives you an opportunity to prevent potentially expensive renovations. The most critical places you'll want to invest a little time and energy investigating are your roof and foundation.
Check your roof for loose shingles or places where you could potentially develop a leak. By the time you notice a leak from the inside of your home, the damage has already had time to develop on the outside. Another good place to look is around the edges of your roof line. Look for any cracks if your home is made of brick, or signs of warping if you have siding.
You'll also want to check your foundation periodically as well. Here in Sydney, minor flooding during storm season is not uncommon. This can really take a toll on your home's foundation and ignoring the first signs of damage can lead to having to make major repairs later on.
Clean your Gutters
When a heavy rain strikes, your home's gutters are what keep all that water from pouring straight off of your roof and creating a moat around your house. They direct water from your roof to other areas like your lawn and out to the street and sewage systems. If you've neglected to clean out your gutters, you could be in for an awful surprise!
During the winter months, debris like leaves, twigs and dirt collect in your gutters and block the flow of water. A heavy rain could cause your gutters to break under the added weight of thoroughly soaked debris. In addition, when your gutters aren't functioning properly because they aren't allowing water to flow away from the house, you are putting your home at risk for flood damage.
As water begins to pool around the foundation of your home instead of being directed away from it, you could risk basement flooding, foundation damage and soil erosion. The best time to make sure your gutters are clean is before a storm hits. Ideally, you should clean them out twice a year, once right before the season and once directly after.
Make Sure Your Windows are Secure
Checking your windows before storm season is one of the smartest things you can do as a homeowner. That's because it's one of the most important and overlooked aspects of storm preparedness. This is particularly important if you have older windows in your home as they are more likely to have wear and tear that could lead to other issues such as leakage.
A few things you'll want to check are the seals on your windows and how well they sit in the frame. A broken window seal could result in water and condensation getting between the layers of glass and causing mold or rot. Older windows with wooden frames are also prone to rotting, which means that over time, your windows may actually leak when it rains harder than usual.
If you do need to replace your windows, the best time to do so is before you notice any major problems. That way, you'll reduce your stress caused by having to deal with additional damage from faulty windows in the first place.
Maintain your Yard
Do you know when the best time to maintain your yard is? Year round!
So, don't wait until the last minute to make sure your yard is in great shape because you may have more work than you expected. Keep loose items like children's toys and expensive outdoor gadgets tucked away when not in use. And, remember to clear up any loose branches, twigs and odds and ends that might cause a hazard to those stepping on them.
Another preventative measure that shouldn't be put off until it's too late is making sure your trees are trimmed. If you have branches overhanging your home or carpark, now is the time to trim them up. A loose tree branch during a storm can cause damage not only to your home or vehicle but, to people too.
Make Sure Your Insurance is Up to Date
Storm season is not the time to ask yourself if you remembered to renew your home's insurance policy. The last thing you want to be doing during a major storm is biting your nails and hoping that tree branch doesn't fall on your roof and cause a leak. That's not just a leak in your roof but, your pocketbook too!
Confirming that your home's insurance policy is up to date is the best way to reduce your stress and expenses if something happens. You can't predict the future and the unexpected can and does happen, but knowing that your insurance policy is in place will give you one less thing to worry about.
Preparing your home for the unexpected is a year round job. But, by following these 5 tips, you'll be one step ahead when it comes to avoiding the potential damage to your home that a flood can cause.