7 Backyard Entertaining Ideas for 2013
One of the best things about living along the coast of NSW is the great year round weather.  With one of the best climates and beaches in the world, we can surf, swim and entertain outdoors virtually 365 days a year. 
With so many opportunities to entertain friends and family, there's no better time to get your backyard party ready than right now.  From full fledged weekend (or two) projects to décor ideas that you can whip up in an afternoon's time, we've got 7 fun and useful ideas for the best backyard entertaining in town.
The Outdoor Kitchen
Outdoor kitchens are one of the newest trends cropping up in the interior design space and some homeowners are already adding them into their renovation plans.  If you're the kind of person who grills out every weekend and loves entertaining guests in your backyard you've probably already thought of building one.
Traditional Patio by Omaha Landscape Architect Olive Branch Integrated Outdoor Design
Once a feature only found in the homes of the ultra wealthy, outdoor kitchens don't have to involve a huge investment in time or money.  They can be built as either a freestanding element away from the home or as an addition to the back of the home. 
The complexity of a project like this is really up to you.  We've seen outdoor kitchens that include ovens, stove tops, refrigerators, marble counters and even wine storage.  But, if you're operating on a budget or prefer a more simple set up, a gas grill, counter space, storage for utensils and nice seating are the absolute necessities. 
The Fire Pit
Another backyard feature that's great for entertaining and gaining tons of attention is the backyard fire pit.  Imagine sitting around the fire on a cool autumn night with your friends and family, roasting marshmallows and telling stories, just steps from your home.
Fire pits are the perfect weekend project; they're inexpensive, easy to make and provide a beautiful and functional focal point in any backyard.
Bring the Indoors, Out
Many homeowners who are renovating are looking for ways to bring the indoors out.  And by that, we mean indoor spaces that can be easily transformed into outdoor spaces with the flick of a switch or bi-fold doors.
The best way to create a dual purpose indoor/outdoor space is by outfitting your exterior openings with bi-fold doors.  This is because bi-fold doors allow you to create the largest opening possible while also looking aesthetically pleasing.  Creating an indoor/outdoor space like this can help create a unique environment for entertainment and extend the amount of space for guests.
Family Friendly Seating
No proper backyard affair would be complete without the right kind of seating.  Whether you like a modern look or something a little more traditional, lawn chairs are out and cosy, comfy outdoor seating is in.
Create seating areas that make mingling with others easy by placing chairs in pairs or groups.  Cushions and outdoor ottomans are perfect as extra seating great or for guests who want to move around and mingle.
Accessorise With Outdoor Friendly Objects
One thing not to forget when creating an outdoor space worthy of a memorable get together is the accessories.  From a design viewpoint, accessories really do make or break the look of a room and an outdoor seating area, patio or even a pool are no exception to that rule.  We've included 3 of our favourite ways to accessorise your backyard bash below.

Mediterranean Patio
by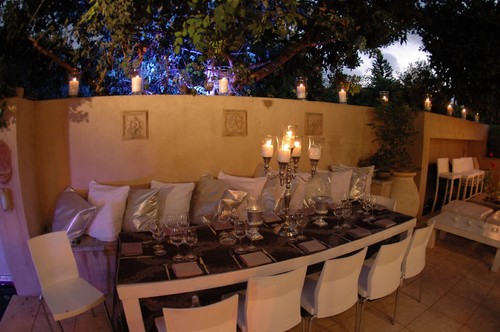 Mediterranean Patio by Tel Aviv Architect NURIT GEFFEN-BATIM STUDIO
Hurricane Lamps
Hurricane lamps are a staple go-to for outdoor décor and entertaining.  Add a touch of class to your table, patio or poolside area with big candles set inside individual glass lamps to protect them from the wind and provide a nice glow as the sun goes down. 
Easy Centerpieces
Dressing your affair up with a centerpiece doesn't have to be complicated.  One of our best kept secrets is using a clear glass container filled with a few in-season flowers, tree cuttings, fruits or shells as a quick and easy centerpiece.
Make it a White Tablecloth Affair
Elevate your outdoor dinner party, skip the picnic table look and upgrade your experience with a white table cloth and napkins, real dishes, silverware and stem-less wine glasses.  Load up the dishwasher when you're done and you'll never know the difference, plus you'll save a ton of cash and a tree or two by not purchasing paper.
Do you have any outdoor entertaining ideas you'd like to share with us?  Tell us your outdoor entertaining tips in the comments below.