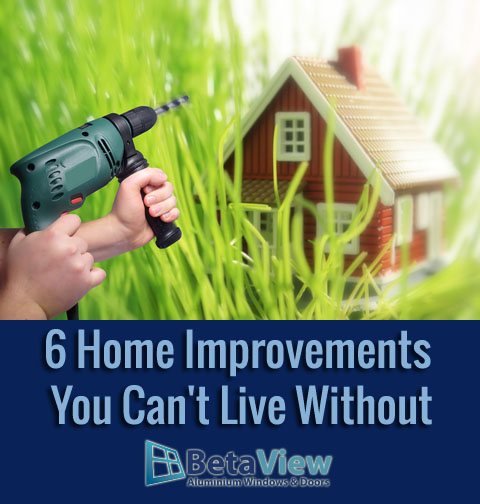 6 Home Improvements You Can't Live Without
There are many ways you can update your home and just as many reasons to do so. Before you start your next home improvement project though, ask yourself what you hope to accomplish with the change. 
All home improvement projects can be grouped into six major purposes – Comfort, Space, Security, Energy Efficiency, Maintenance and Repairs and Aesthetics.
1. Comfort
Any project that improves upon the physical comfort found in your home will fall under this category. This includes:
Installing a new ventilation system

Updating your heating and cooling systems

Soundproofing bedrooms, music rooms, offices, etc.

Increasing the capacity of your plumbing

Waterproofing your basement

Modifying a room specifically to change the temperature, humidity or air flow
In order to plan a comfort project, the first thing you'll need to know is what it is that is making you uncomfortable. Sit in a room that makes you feel truly at ease, then go to the space you are planning to renovate.
Identify the changes – like you are playing one of those spots the error games. Once you know what the difference is between the two spaces, you can proceed with your renovation plans.
2.  Space
Any project that increases the amount of space available in your home. This includes:
Adding new rooms to the outside walls or roof

Knocking down non-load bearing walls to increase the size of a room

Converting attics and basements into additional living spaces

Building sunrooms, patios or decks to add living space to the exterior
Most people take on these projects because their home has become too small due to the addition of a new family member; others decide to add to their home or renovate existing spaces to upgrade and/or increase the resale value of the house itself.
3.  Security
Any project that creates a safer environment for you and your family. This includes:
Home alarm systems (fire and burglar)

Sprinkler systems

Adding or building a storm cellar

Installing backup generators

Replacing locks and doors

Putting a fence around your property

Fixing/installing exterior lighting (motion sensors as well)
Everyone wants to feel safe and secure in their home. If you don't, identify what it is exactly that feels unsafe and act upon it. Only once you have done so will you and your family be able to sleep well.
4.  Energy Efficiency
Any project that will eventually reduce your carbon footprint and save you on monthly bills. This includes:
Installing a renewable energy source – wood stoves, solar paneling, wind turbines, etc.)

Replacing old windows and doors with new, energy efficient ones

Upgrading to thermal insulation

Changing your lighting to best optimize the daylight and reduce light pollution during the evening
With so much talk about our carbon footprint and about energy efficiency, our home needs to reflect our desire to save the planet and our wallets. These types of home improvement projects will benefit you in the near future and will provide you with a higher resale value.
 5.  Maintenance and Repairs
Any project that acts solely to improve, repair or maintain the existing qualities of your home. This includes:
Roof replacements or upgrades

Foundation or chimney repairs

Fixing the plumbing or electrical systems

Replacing or fixing windows and doors

Any project that is done with the purpose of restoring the home to its original glory
Maintenance and repairs have a dual purpose. They improve the quality of your home and increase its beauty at the same time. Many people choose to include maintenance and repairs in their renovations, this way they only have to do the project once.
6.  Aesthetics
Any project that changes, updates, improves or modifies the physical appearance or "look" of a room. This includes:
Painting – walls & ceilings

Changing the flooring

Updating/changing the appliances, fixtures and hardware (cabinetry)

Updating/changing the storage system

Exterior appearance – landscaping, siding, brick, etc.
These types of home improvements are largely the most popular, especially since they directly address the nagging feeling in the back of their head about something being off. If you don't like something, changing it will make your house feel the most like home.
In the end, when deciding on which home improvements to make, you should ask yourself "Which of these six categories do you want to address with your home?" Then, start narrowing down your choices!