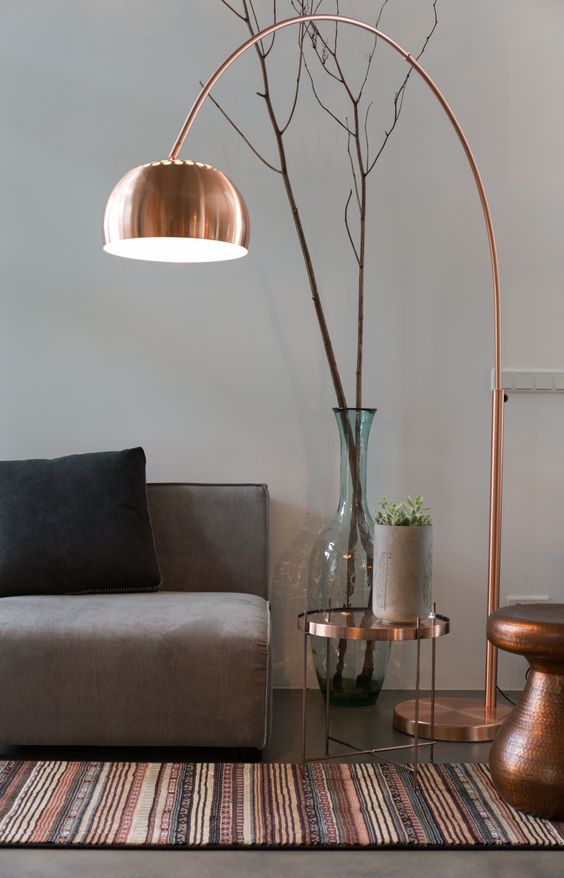 Decorating With Metallics at Home
Splashes of bronze, copper and other metallics continue to be right on-trend this year and it's easy to see why. The synthesis of rustic style and modern elegance suits a wide variety of design aesthetics and easily turns the mundane into something special. In our 2016 & 2017 Living Room Design Guide we took a glance at metallics, but in this post we'll dive into some excellent ways you can use them in the other rooms of your home as well.
Metallic bathroom & kitchen fixtures
Chrome's great, but why not explore past the plain old silver and turn your bathroom and kitchen fixtures into a feature. Adding bronze or copper fixtures is a great way to breathe new life into two of the most used rooms in the home while still giving you the freedom to design them however you like. If you're looking to bring the outdoors into these areas, like stone, woods, or plant life, bronze or copper faucets matched with black stone basins or bathtubs is a striking combination. If you're looking for a more industrial vibe, with an exposed brick wall and metal shelving, then pair your metallic fittings with simple white enamel basins; the stark contrast of pure white and rough 'live' edges is simply stunning. Finally, if you're looking for a totally modern feel, keep to darker tones throughout these rooms, with shades of grey and use textures to create depth and character. In this scenario, the bronze and copper metallic fixtures stand out beautifully against the darker surroundings.
Copper fixtures look as great against darker colours as they do against white. Images source.
Metallic Furniture
Metal is also used widely in furniture. While powder coated items, particularly with black colouring, are incredibly popular staples, it's the use of metallics that creates a point of difference. To emphasise the ability of metallics to match any scenario, look at a simple coffee table. With bronze, copper or gold legs, a coffee table could be topped with glass, live edge wood, stone, or fabric and still be perfectly at home. Likewise with sofas that could be transformed into a traditional cottage style with a combination of metallics and fabrics, or a sleek scandinavian chaise lounge with metallic appointments in synergy with darker toned fabrics.
Mixing metals is far from being a no-no – It can add personality and depth to a room. Image source.
For accessories like floor and table lamps, metallics are an exquisite option for the stands or legs. A wide range of styles is available, with the finishes varying from beaten/worn to pristine and sparkling. Solid metallics are great for table lamps with smaller stands, paired with shades that complement your room's decor. For floor lamps, look to combine metallics and woods to create an industrial or modern aesthetic while adding something beautifully unique.
A large statement item in eye-catching copper will become the focal point of the room. Image source.
Metallic Art & sculptures
Adorning your space with metallics artwork is a stylish, simple and elegant addition to your home. Small items like vases and ornate plates work beautifully in modern designs, particularly copper tones. Larger items like pots, or floor mounted metal artworks are stunning particularly in a space that uses mostly darker tones. Finally, look to wall art for a truly stand out piece. Consider pieces that use a variety of textures, shapes and sizes to create something unique and alluring.
Unique and unusual metallic sculptures will become conversation pieces in your home. This particular one is a DIY project! Image source.
Using metallics in your home
Metallics are just one idea we covered in our comprehensive Design Guide. If you're looking to build new or renovate your home, explore our ideas for what's on-trend now and what's timeless.