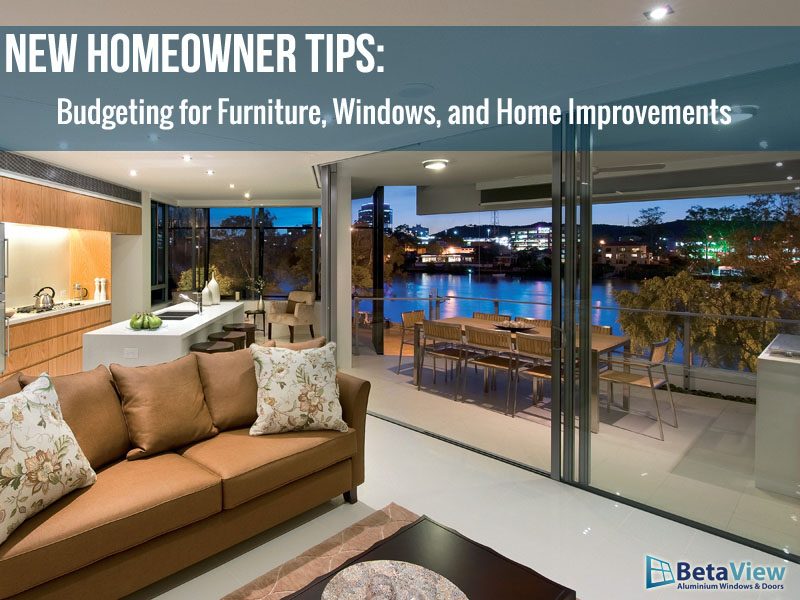 New Homeowner Tips: Budgeting for Furniture, Windows, and Home Improvements
Often when we move into a home there a number of areas that may need work, sometimes the to-do list can seem overwhelming. Spending money on furnishings and home improvements can add up. For those people who are first home buyers, they are also getting accustomed to paying a mortgage and all the other expenses that come with home ownership.
You might have a list of things you want and need, such as paint and wallpaper, new aluminium sliding doors or windows and nicer furniture.
Purchasing the best that you can afford for the major things is wise, especially if they will add to the value of your home.  Therefore it may be worth considering how best to budget. For example, you could go with some items of second hand furniture and spend more money on better doors and windows, for instance.
Facing Your Budget
Many people find out quickly that you can't just do all the upgrades you want at the same time. It is better to form yourself a budget so you can make interior upgrades and exterior improvements over time. It's wise to make a short term and longer term plan.
You may want to upgrade your furniture in the next year and perhaps upgrade windows the following year. Obtaining some pricing for things like aluminium windows, prices for upgrading sliding doors, and other items on your list can help you budget for short term and longer term improvements.
Keep in mind, too, that some home improvements don't just improve the look and value of your home but can also improve your utility bills, too.
When looking at the interior décor, some people aim to look for period furniture that can be stripped and refinished either with a wood stain or a new paint surface so that they can reuse it through a few home renovations.
When you look at second-hand furniture, you have to be realistic in understanding your own talents to know whether you can complete the work on the furniture to a good enough level. For some people, it may look worse by the time they are finished. The same goes for exterior upgrades. There are definite advantages to using professionals for major things like windows and aluminium doors.
The DIY home improvement hobbyist should know their limitations and consider the advantages of using a professional with the required experience and equipment. Also, doors and windows installed by a licensed company come with a seven year warranty for defects of workmanship.
While it can seem like a great idea to do your own painting and furniture refinishing to save money, it is better to call in professionals for installing new windows and buying high quality sliding doors.
If you're interested in finding out about pricing and for replacement aluminium windows and doors areas, BetaView would be happy to review some options with you. It might cost less than you expect!