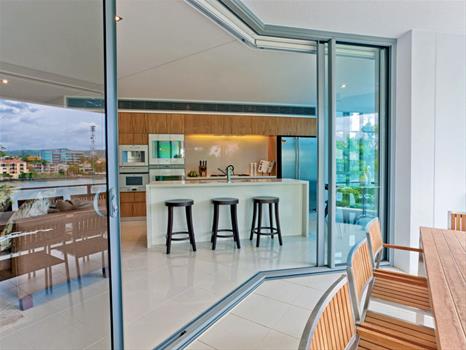 The Best Types of Aluminium Doors for Kitchens
One of the main reasons people choose to makeover their home with new windows and doors is to enable them to get more enjoyment and convenience out of the space they already have, and also to make their home more pleasant when entertaining guests. With the lovely warm weather we usually have here in Australia, one of the best places to entertain and enjoy time with family and friends is outdoors.
What are the best types of door designs for kitchens?
If you're lucky enough to have a kitchen that's adjacent to your backyard, courtyard, large balcony, or other perfect outdoor entertaining space, then many people opt for doors which open up all the way, and allow you to turn your space into a combined indoor-outdoor entertaining area. Especially when serving food and carrying big plates of salads, prawns, and meats (think BBQs and outdoor dinner parties) outside, you want to be able to move freely between indoor and outdoor areas, without having to reach down and open a door every time, or shuffle awkwardly around other guests trying to get in and out.
Kitchens also tend to be one of the warmest areas of the home, as that's where we're always cooking with hot appliances. Being able to open up your doors all the way, and let in a fresh breeze can be a huge help in keeping your space at a comfortable temperature as well.
There are a number of aluminium door designs available which are perfect for kitchens, some of which we've taken a look at here:
Bifold Doors
Bifold doors are a popular option for people with a large backyard that you want to want to take full advantage of during the summer months. Opening the doors all the way will make you feel like you've got twice as much space in your home, and gives plenty of room if you want to set up long dining tables and plenty of chairs for your guests.
Bifold doors can also be a great option for those with children, who may be at risk of accidentally running into a sliding glass door panel (a risk that's further multiplied the more little ones are at the BBQ or party!)
Aluminium Stacker Doors
A type of sliding door, stacker doors are another great option for kitchens and entertaining spaces. They slide open and "stack" on top of each other, leaving only one panel of glass (or two, if they're configured to stack to either side of the opening) impeding on the thoroughfare. Stacker doors are better suited to homes that have a long wall space available between the kitchen and outdoor area, as there needs to be enough width for the multiple door panels to fit when closed.
French Doors
If you don't have a very long wall space separating your kitchen from your outdoor area, but still want to be able to open your doors all the way, then a pair of hinged doors in a French door style configuration could be your best option. The door panels will sit almost flush with the wall on either side when open, meaning that there'll be nothing in the way of being able to walk freely between your indoor and outdoor spaces.
If you're unsure of how to make the best use of your kitchen space with a new set of aluminium doors, then get in touch with the team at BetaView and we can organise a free consultation, in which we'll visit you at your home, take a look at your space, and recommend the best options for you.