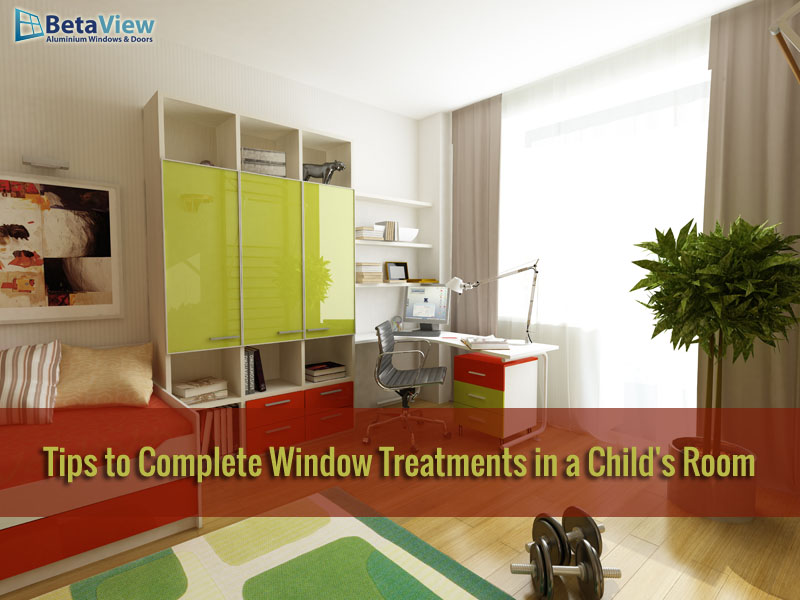 Tips to Complete Window Treatments in a Child's Room
When you're contemplating which aluminium windows and doors to fit in your home to complete your upgrade, you are probably also wondering about window treatments for your children's rooms with a particular emphasis on safety.
Most children probably won't appreciate the types of window finishes that you prefer. What an adult sees as particularly pleasant and tying in with all of the other decorating elements, your children may see as boring, old-fashioned and lacking in imagination.
Considering Blinds and Curtains for the Children's Room
Special consideration is extremely merited for the finishing of your children's rooms. Window coverings must first be safe, exceptionally functional, practical, and if you like, stylish in a way that matches their ages and interests.
Thinking of safety first, it is better if you are able to avoid any long draperies for a child's room. From a very early age children tend to grab hold of long curtain panels and as children grow in strength and weight, the curtain panels that are used to pull them from the floor will quickly join them there.
However great your windows look, if you are able to avoid loose decorations, beads or any cords, you will be saving yourself a potential nightmare later on. Any decorations on the curtains or blinds should be embroidered on and very carefully attached. Children at various ages still put a range of items into their mouths and decorations and beads do not belong there.
The biggest danger for children and window treatments are any cords on blinds and curtains which can quickly strangle a child as they play.
Cords must either be far too high for children to reach, particularly when they are young or you should invest in the style of breakaway cords that simply break away from the curtain when they are pulled too hard.
Shades, blinds or short curtains are the most popular items for children's window treatments and if you can keep them as light and airy as possible you'll be onto a winner.
Blackout linings, which can be made to fit any size of window or door, can be very useful to provide a darkened room across the night hours.
It is better if you can keep a baby's bed, changing table or bookshelf well away from any window treatments so they are not reachable while a young person's attention should be elsewhere.
Mixing colours is a good way to add style to a child's room. If you're using aluminium sliding doors in the children's room or playroom, then adding roller shades can work well, especially when mixed with a colourful fabric valance.
Once your new aluminium doors and windows are in place, adding a variety of colourful treatments, whether you choose curtains, blinds or shades – as long as you think of safety first – then choosing fabrics that can be mixed and matched with cushions pillows and lampshades can really brighten up a child's bedroom.