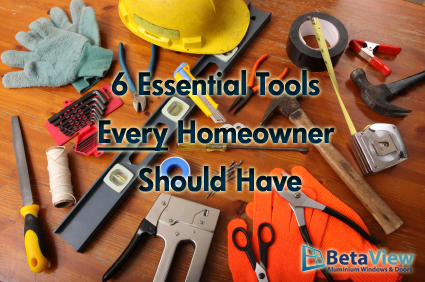 6 Essential Tools Every Homeowner Should Have
It's home renovation season and time to pull out the trusty tool box and get started on that project that's been bugging you.  But, before you head over to your local hardware store, make sure that you have these 6 essential tools that will come in handy no matter what project you happen to be working on.
1. Hammer
If we were renovating a home and could only use one tool for the entire day, we would choose a hammer.
Why is that? 
Because hammers are one of the most versatile tools we know of.  In fact, there isn't a whole lot that a good claw hammer can't do. 
Need to split a 2 x 4 and can't find your saw?  Use the claw part of your hammer to quickly split boards in half by wedging it into the wood and plying it apart.  It's quicker than a saw and gets the job done.
What about measuring for outlet boxes?  Most contractors won't even bother with a measuring tape on this one unless the outlet box is high off of the floor.  Instead, use the length of your hammer to mark off where outlet boxes go.
Hammers can be used for other things around the house too such as ripping apart old drywall, digging holes and of course, decorating your tool belt.
2. Tape Measure
Surely, you've heard the old adage, "measure twice, cut once"?  Well, if anything could illustrate how important the good old tape measure is to the success of your home renovation project, that would be it.
Tape measures are the second most useful tool in your handyman's tool box. Most spring loaded tape measures are housed in a tough acrylic case to prevent rusting and come in a variety of lengths from 5 meters to 30 meters.
Some tape measures even have an LCD display that makes reading distance even easier, especially when measuring awkward angles. 
For long distances and hard to reach spaces, like when you need to measure a high ceiling, there's the digital tape measure.  These use lasers to measure distance and a top of the line model can accurately measure up to 50 meters from front to back edge.
3. Handsaw
Having a high quality, general purpose handsaw is a must for any homeowner thinking of doing a DIY renovation.  Yes, electric saws require less energy on your part but, a good handsaw will save the day when you've got a quick job or run low on batteries.
Besides being quiet, efficient and safe, handsaw can do a few things that electric saws can't.  For instance, you might find yourself trimming down moulding for the perfect corner fit, in which case a small handsaw would be preferable over the electric.  Or, in the case of cutting into drywall or paneling, a simple hand saw can get the job done with ease.
4. Level
One of the most essential tools you should never be without is a level.  Whether you're hanging pictures, putting up shelving or verifying the height of a window or door, levels are a crucial part of any handyman's arsenal.
Like the digital tape measure, levels have come a long way in terms of accuracy and ease of use.  Digital levels featuring laser accuracy of up to .05mm are precise and fit perfectly into your toolbox.
5. Cordless Drill
If we had to describe the cordless drill in two words, they would be flexibility and efficiency.  Unlike their electric precursors, cordless drills can go anywhere and are easy to use at just about any angle, making them perfect for hard to reach spaces.
The great thing about cordless drills is that they do a whole lot more than just driving screws into plywood.  They're capable of drilling holes, stirring paint, sanding, sawing and installing drywall.  And, that's just the tip of the iceberg.
6. Screwdriver
Finally, no toolbox would be complete without at least one flat tipped screwdriver.  Like the hammer, a flat tip screwdriver is one of those multi-tasking tools that never goes out of style.
Use one to open cans of paint, test a 9V battery, apply epoxy or glue and as a scraper.  At the end of a long, hard day's work you can even use it to open up a cold one and admire your accomplishments.
So, now that you know what our most essential tools are in our toolbox, which ones do you make sure to have in yours?  Tell us what you can't live without in the comments below.