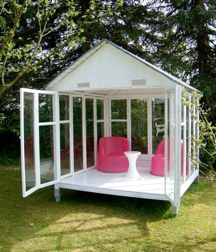 8 Ways To Re-use Your Old Windows and Doors
Reusing old objects is one of the hottest trends in DIY home furnishing these days.  Crafters, artists and homeowners looking to transform their home with found objects are returning to a new practice that actually dates back to the turn of the 20th century: upcycling.
Unlike repurposing, upcycling involves taking an old object or piece of furniture and turning it into something new and with a new function.  For instance, an old door might become a table or a headboard rather than just be repurposed as a door again.
So, where do you find these so-called "found" objects and materials?
Your home is one of the best places to come up with furniture and fixtures that can be upcycled into a beautiful object d'arte.  In fact, shop any local boutique and you'll find a bevy of furniture that has been upcycled from found materials into cute, fun and unique pieces for the home.
If you're planning on replacing your old doors and windows with something new (like aluminium bi-fold doors) you might want to check out these 8 fun and clever upcycling ideas before you throw them out…
1. The Baby Greenhouse
Anne of Design Dreams by Anne made this baby greenhouse out of 3 old storm windows and a piece of scrap wood found in her shed.  She based it off a plan she had for how to build a tiny shed.
We think it turned out beautifully and would make a fine mini greenhouse that could be placed in your backyard or near the side of your house.  A great use of old storm windows that otherwise would have ended up in the bin!
2. Sliding interior doors

Not really an upcycled idea but, these antique doors were reused as fancy sliding interior doors that add a nice touch to this dining room and kitchen in Traditional Home.  Not only were these beautiful doors salvaged but, since they are placed on rollers instead of opening out, they help save space too.
3. Room Dividers
We found another great idea here; a room divider using old storm windows to create a cozy and intimate dining space without blocking out the natural light.
4. Hallway Solutions
This old door was destined for destruction, that is until its owner upcycled it into a cute and functional coat rack that fits perfectly into the hallway of their home.  What's nice about this is that it can be moved to a different location if need be and you don't have to worry about putting additional holes in your wall or scuffing your paint job.
5. Outdoor Furniture
This upcycled creation is one of our absolute favourites.  And it isn't just because it's a clever idea or that it utillises multiple pieces of old furniture and hardware.  After all who doesn't want to sit outside on their upcycled porch swing on a hot summer day sipping a glass of chilled wine?
6. Reclaimed Window Coffee Table
This use of an antique window was simply too good to pass up.  In this project, the entire window, including the frame was placed on a custom-made table base.
The best part?
Open the window to store coffee table books and magazines or even use it to display precious items like a curio case.  This is one fun and functional use for an old window that shouldn't be passed up.
7. One of a Kind Artwork
Reclaimed materials from your home certainly lend themselves well to new uses like furniture and fixtures but they can also serve an even more artistic purpose, too.  Windows are especially well suited to framing works of art or even being used as part of the work itself.
One of the hottest trends in home décor right now is vinyl wall decals and artwork showcasing popular and endearing quotes.  Instead of simply sticking one of those vinyl decals to your wall, you could use it to create a one of a kind vignette with your own quote on window glass.
The frame for your picture is already built in and you can customise the scene and colours to your décor and even change it easily too.
8. Backyard Hideaway
Okay, we know – it's made of glass so, it's not much of a hideaway in the true sense of the word but, we saved this gem for last because it truly was one of the best ideas we came across, especially if you'll be replacing a large number of windows in your home.
This enclosed outdoor gazebo would make the perfect spot to hang out and read a book on a rainy day while being surrounded by nature.  Or, it could be a fun alternative to a tree house for the kids.  A cozy outdoor room like this has so much potential and possibilities that it almost makes you want to replace your windows just so you can use them to make this!
Do you have any ideas for reusing old windows or doors?  Better yet any examples of your own handywork?!  Then let us know on our Facebook page at www.facebook.com/betaview.au.