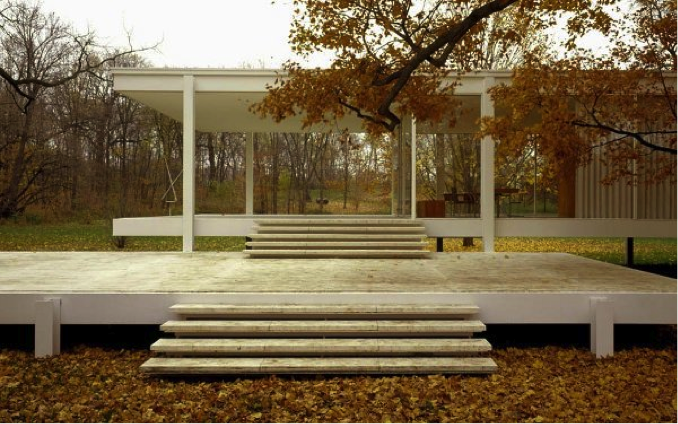 People who live in glass houses (with sliding doors)
People who live in glass houses will almost certainly be too happy living in their beautiful, airy abodes to turn nasty and throw stones!
You will have noticed over the years that the boundaries between the interiors and the exteriors of our homes are becoming increasingly blurred. Especially in this wonderful Australian climate of ours! Which means, of course, that the use of glass is hugely on the rise. After all, what could be lovelier than a big sun-filled kitchen/family room morphing seamlessly onto a timber deck, with only barely-there sliding doors between?
And the move towards building glass is gathering pace. Ever since Ludwig Mies van der Rohe designed the stunning Farnsworth House in Illinois, USA (see below, courtesy of The Coolist ) and Philip Johnson his glass home in New Canaan, Connecticut, domestic architecture has never been quite the same. It's amazing when you think that both of these dwellings were constructed back in the middle of the last century – they're just as startlingly modern and beautiful today as they were then!
http://www.thecoolist.com/glass-buildings-15-creative-uses-of-glass-in-architecture
More and more, those with a passion for light and minimalist design are building with glass.  Up until recently, most of these wonderful dwellings were in rural settings, tucked away in the natural beauty of the woods. Or in our case, the bush. Escaping the prying eyes of the curious. After all, those who choose to live in glass houses usually aren't fixated on their own privacy.
However, in the last decade or so glass walls are increasingly being incorporated into urban apartment blocks and close density and suburban housing. Particularly in inner city areas, where surrounding tall buildings make light such a precious commodity. Most of these householders really enjoy the energy and bustle of their neighbourhood seeming to intrude into their house or apartment. Once again, it's a case of bringing the outside in. And, considering the passers by who stand and gawk, vice versa.
Perhaps the massive sharing of personal information on social media has encouraged the trend. Whatever the reasons, people seem to be more willing, generally, to put their lives on display – literally! Here's an outstanding example as seen in Trendir Flip House in San Francisco:
http://www.trendir.com/house-design/glass-house-zigzags-its-way-into-the-san-francisco-landscape.html#more
Of course all this openness – the blurring between public and private domains – has had its downsides. In a recent celebrated case, a New York gallery staged an exhibition of the photos of Arne Stevenson, which has since resulted in a series of legal actions against the photographer. Why? Because the shots in question are candid portraits of residents of the glass-walled Zinc Building in the Tribeca district, unknowingly going about their everyday domestic lives. Stevenson, who used a telephoto lens from his apartment opposite, argued that people who live behind exposed glass are fair game! The subjects, none of whom, incidentally, can be identified facially, responded that they could tell who they were and that it was an invasion of their privacy. Watch this space for further developments!
Of course, most glass houses do allow for some seclusion – at least in bedrooms and bathrooms. There's some strategic integration of blinds, wooden panels and (shock horror) even the odd wall! And glass itself is becoming more and more clever, privacy-wise as well as for insulation. Reflective glass, for example, allows clear viewing from the inside to the outside, but not the reverse. Some types of layered glass can now even be transformed from clear to frosted and back again at the flick of a switch!
You only have to look at the plethora of home makeover shows on television (particularly the English ones!) to realise that no other country does modernity and glass quite as well as Australia.
With the exception, perhaps, of the Netherlands …
Source: http://goo.gl/UO2Szh
As shown in Trendir, designed by Dutch architects 123dv, this stunner is aptly named the Bridge House.
… Or California – as in these amazing cantilevred Tea Houses, also in Trendir, designed by Swatt Miers Architects:
http://www.trendir.com/house-design/nature-inspired-tea-houses-cantilevered-over-the-valley.html#more
But when you look at some of our local designs, it's no wonder Australia is a world leader in marvelous glass houses. The homes designed by Sydney architects Utz Sanby are a case in point. It's easy to see why this Church Point beauty is one of their most famous:
Well secluded from the street, it seems to float in the surrounding bush like a ship. And when it's lit up at night, it's really quite magical.
So, even if an all-glass residence isn't quite your style, you'll almost certainly agree on one thing. The best of these houses are quite amazing works of art in themselves!  
With over 25  years in business, BetaView has supplied many of Sydney's finest homes with custom aluminium windows and doors. Call us today for friendly, expert advice and a no-obligation measure and quote on (02) 96235611 or email sales@betaview.com.au