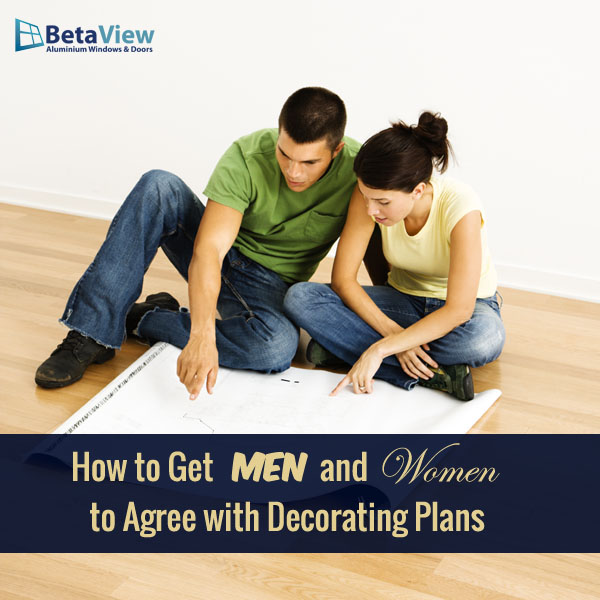 How to Get Men and Women to Agree with Decorating Plans
Getting men and women to agree on anything can sometimes be a difficult task, even with the best intentions in mind. Even when you're looking at upgrading your property by adding bi-fold doors, aluminium sliding doors, awning windows, or other new windows, there may be two distinctly different points of view about which styles to select. Do men and women have to agree or can homes accommodate two particular different styles?
For anyone that wants to find out the difference between men and women, the Venus and Mars series books succinctly explains why men and women think and act differently, even though we chose partners for life, often because of our similarities.
When many men look at aluminium windows prices, they will be wondering if they going to get value for money from the product, whereas some women will be more concerned about the effect the windows will have on the design and decor of their property. Although this is oversimplifying the differences between men and women and of course this situation isn't always true because women will always tell you that they look at value for the product at the same time, it's the way men and women work together as a team that produces the final result
When you're contemplating adding aluminium sliding doors to your property, the men will generally be thinking about how this will give them the opportunity to move big furniture items in and out of the property quite easily, whereas women may be thinking more about how the view will look from their favourite chair to the garden outside.
Many men will go out and buy a large sturdy coffee table, whereas women will think more towards an elegant and smaller option. When it comes to home decorating and design, men will be thinking more about how comfortable, sturdy and functional the furniture needs to be, while women are often contemplating floral, pastel and attractiveness.
Many women have to agree that they will disagree about how they are going to furnish and decorate each room in their home. There's no easy single solution to this problem apart from accepting that each of the couple are going to have to compromise in different areas.
You have to accept that there are some areas that you will agree completely and on other occasions you will probably believe that your partner doesn't have any decorating taste or good sense whatsoever.
Where you can agree or certainly doesn't work for you might show you areas of compromise for the other person. Choosing aluminium windows in Sydney needn't be a difficult process because there is bound to be a design that you can both enjoy. Talk to us at BetaView or consider stopping by our showroom so you can see if you might be able to agree (or compromise) on your home upgrades.