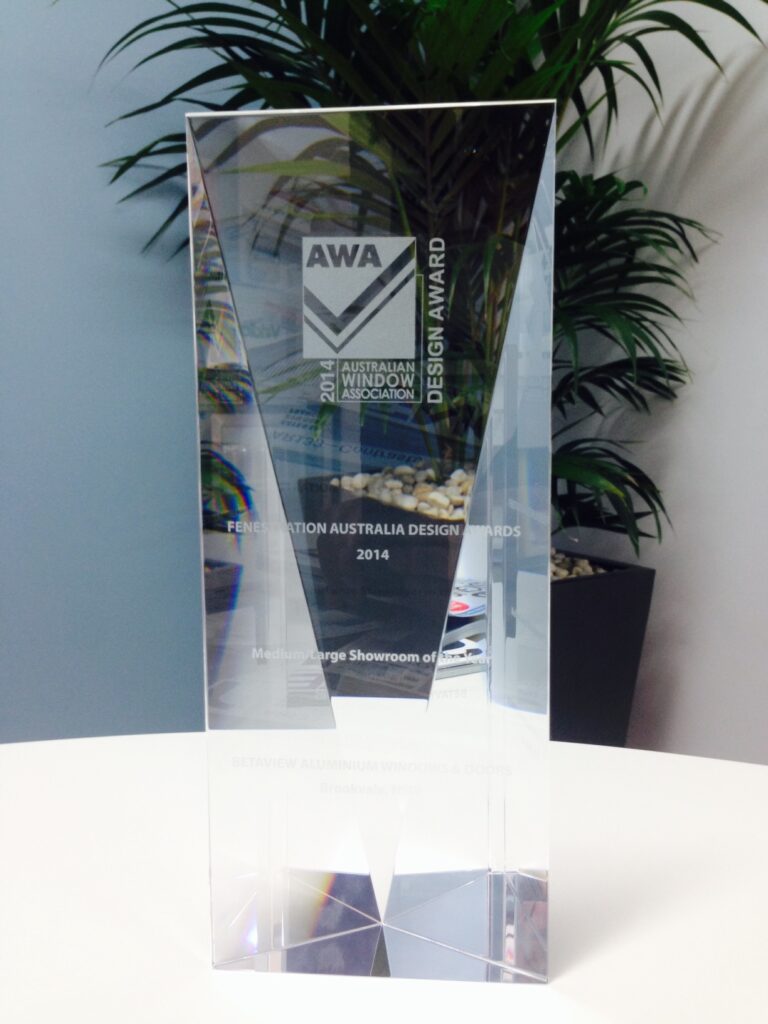 BetaView Wins Showroom Of The Year Award
The annual AWA Conference is the highlight of the industry's calendar, attracting designers and fabricators through to hardware manufacturers and technology specialists.
Fenestration 2014 was held on Queensland's Gold Coast, with over 360 delegates attending the 3-day event.  There were a number of interesting and informative seminars and keynote speeches on important industry topics.
For BetaView, it was an opportunity to mix with the window and door industry's leaders and stay up-to-date with developments, standards and working practices.
Each year the conference hosts – the AWA, Skylight Industry Association (SIA) and the Australasian Institute of Surface Finishing (AISF) – present the coveted Design Awards, recognising and awarding excellence within the window and door industry. The judging panel comprises a diverse mixture of experts from a range of backgrounds across fenestration and building industries.
BetaView entered one of the most competitive categories in the awards; Showroom of the Year 2014. This year was no exception to rivalry and saw excellent entries from window and door companies all over Australia, including well known international brands and specialist providers.
It was with great anticipation that the nominees were announced and BetaView was in the running.  The judges remarked upon the quality of entries for this category and as such a highly commended certificate was first presented to an innovative entry from a Bendigo nominee. But now, the main winner was to be revealed and there was a palpable tension in the room.
"And the winner for Best Large Showroom of the Year 2014 is…
…BetaView Aluminium Windows and Doors for Dale Street, Brookvale!"
With rapturous applause, BetaView's Matt Dove (Marketing Manager) was in attendance to receive the award from AWA Director, Michael O'Keefe.
The presenter commented, "The judges were impressed by the consistent design, clean layout and thought put towards customer needs, as well as the convenience of the meeting areas and kids playroom."
For BetaView, the award honours a lot of hard work and careful planning that went into putting the showroom together at the start of 2014. It's a great win for the business and something everyone at BetaView is hugely proud of.
Why not pay a visit to Australia's best window and door showroom?