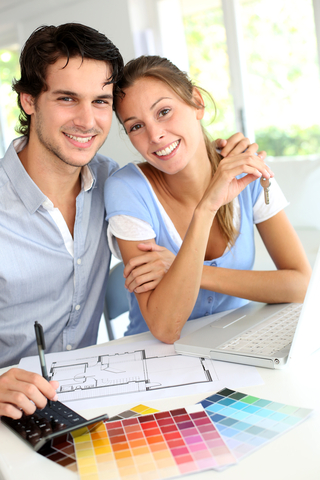 The Top 7 Home Improvement Trends for 2013
African inspired prints, tons of texture for floors and walls and an emphasis on art are just a few of the interior design trends that savvy homeowners are going to be picking up on this year.  But, did you know that there are at least 7 home improvement trends for 2013 that will really make your home stand out?
Don't worry, these aren't anything you can't live with.  In fact, we've got a few on our list that you may not be able to live without once you have them: room with a view anyone?
1. Bi-Fold Doors and Bigger Views
It used to be that anything other than a sliding door leading to the patio or pool was unheard of.   But consumers, especially on the high end, are looking for a more seamless experience between their home and the outdoors.
Bi-fold doors offer bigger openings that blur the lines between the outside and in, giving a new meaning to the term "room with a view".  Homeowners who invest in framing their home's vista with a set of aluminium bi-fold doors can expect a nice return on investment in the future.
2. Going Green
Eco-friendly products and building materials are another trend on the home improvement market for 2013.  Whether you are thinking of installing energy efficient windows and doors or a tank-less water heater, there is no denying that homeowners have caught the bug to go green.
The beauty, value and potential money saved on green improvements outlast most other home improvements in the long run.  And, many green products have improved in both quality and price over the past few years, proving to consumers that green doesn't have to be boring or expensive.
3. Non-Traditional Windows
Windows and doors are going to be one of the top home improvements this year and homeowners are thinking outside the box.  They don't just want bigger views; they want more efficiency and functionality too.
That means non-traditional window types such as louvres and awnings and materials such as aluminium instead of wood or vinyl are going to be making an appearance in a big way.
4. Low Maintenance Materials
You want high quality, but don't want to have to take tons of time out of your schedule to maintain fixtures, surfaces and hardware that requires constant care.
So, what's the solution?
Exterior and interior products that will withstand the environment, time and just about anything that comes their way.  That means exterior wood finishes and trims are out and aluminium, vinyl, glass and cement are in for 2013.
5. Functionality
Spaces that serve more than one purpose have been on the rise but, are set to explode this year.  Kitchens that are integrated into the living room, homes that focus on aging in place and multipurpose rooms are just a few of the double duty rooms we'll be seeing.
Of course, what better way to integrate this trend into your home than by replacing that wall with a bank of interior bi-fold aluminium doors for extra versatility?
6. Security Squared
Homeowners are becoming even more concerned about the security of their home when they are away.  While they are spending more money on alarm systems, the real winner in this area is automation.
That means apps that allow you to monitor your home from anywhere, even halfway around the globe.  Alarm companies are cluing in on the trend and many have developed apps that send alerts when an alarm has been set off and even let you video monitor your home from your phone.
7. Colour
Repainting is still one of the top home renovations as it's inexpensive and can be done in a weekend or less.  So, what are the top paint colours for 2013?
Well, many interior designers seem to agree that greys, indigos and plum are going to be taking center stage alongside the deep corals and turquoise blues from last year.  Many people are also leaning towards more neutral tones of these colours for their home improvement projects.
Are you ready to begin your home improvement project?  We can help you create a custom room with a view that will never go out of style.  Call us at 02 9623 5611 to schedule your consultation and free quote today.