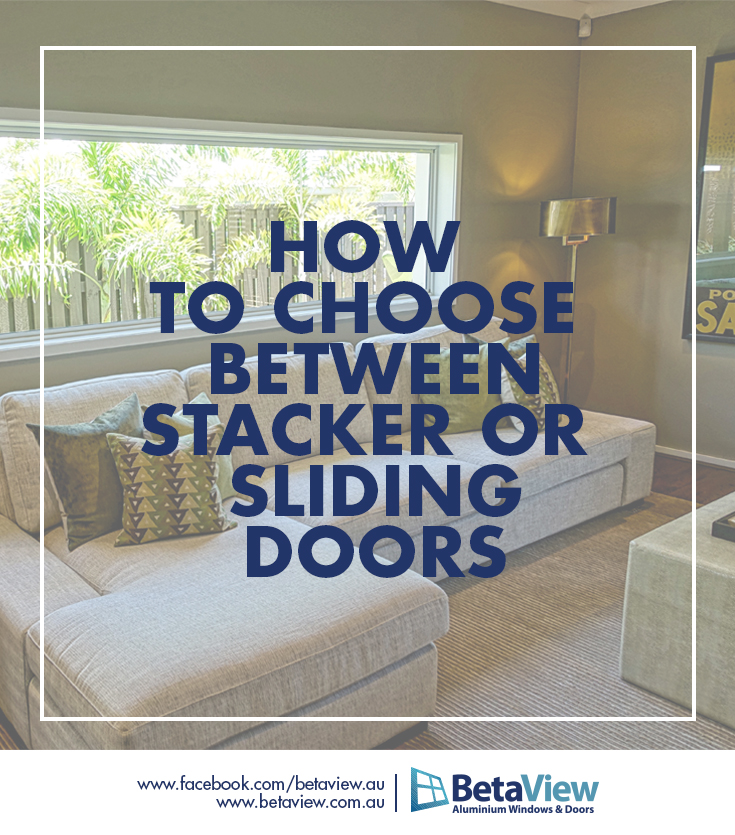 How to Choose Between Stacker or Sliding Doors
When you're looking at upgrading to aluminium sliding or stacking doors so that you can take advantage of your recently improved garden or entertainment area, good products to consider are stacking or sliding doors, to make the most of your view  
What are the Differences?
The sliding door is perhaps the type you are most used to. This most commonly consists of two door panels, one is fixed and one sliding. The sliding panel opens by sliding horizontally along a track. When you slide the sliding panel, the fixed panel doesn't move at all. Essentially, when the doors are closed, the two large doors are replaced from filling the whole space in the wall, to filling half the space. The sliding panel on a sliding door make up half of the total width. 
A stacker door is very different from a sliding door. This method uses a number of doors which can be stacked one behind the other as they slide along. If you have a long door space which might take six sliding panels, for example, there can be fixed panels at each end, and four sliding panels, two slide in one direction and two in the other.
When in the open position you have a greater area that is open over conventional sliding doors. The most common configuration of stacker doors is three panels (one fixed, two sliding). In this configuration the sliding panels make up two thirds of the overall door width, so more than a conventional sliding door. This would allow greater access to and view of your entertainment area or garden.
Stacker Doors Have Many Advantages
When you choose stacker doors to fill a large space in one of your rooms, these types of aluminium doors help you control the temperature in the room. You can of course have all the panels closed or open, but you are also able to regulate the temperature by partially opening one or more of the sliding panels. As mentioned above as we are able to open more space up than sliding doors you can create more airflow on hot days.
Alternately, opening such a large space in one of your outside walls gives you the opportunity to allow a great amount of natural light to pass into your home from outside whether the doors are open or not, because the entire wall becomes glass. This helps reduce your electricity bill because you won't need to use so much artificial light inside the room.
If you are troubled by flies or other insects at certain times of the year, don't let that put you off having a stacker door. There are integrated screen tracks where we can fit flyscreens. They work in a similar way to the sliding panels and can be pulled to stack across the opening when you have the sliding panels in the open position.
In addition to flyscreens we also offer diamond security screens and also Invisi-Gard security screens. Both flyscreens and security screens are also options for sliding doors as well as stacker doors.
If you are ever moving large items in or out of your house, the large open space of stacker doors provide make the whole set of work much easier. This is great for moving large items of furniture.
When you are considering stacker doors in Sydney, there are a variety of styles that can be attractive.
The biggest appeal of installing stacker doors in your home is the ability to have so much open space to allow light in. Also you can allow lots of airflow in when it's warm outside. They provide you with a wonderful view of your garden or entertainment area when the doors are both open and closed.
---
Read more about the Difference Between Stacker & Sliding Doors Next >