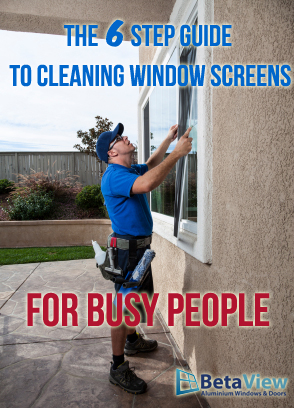 The 6 Step Guide to Cleaning Window Screens for Busy People
Window screens are an absolute necessity here in Sydney; we use them year round to keep the critters out and our homes cool. And, though most of us know the importance of keeping your windows clean, we often forget about one of the most important components: window screens!
Now that autumn is here and the weather is cooling off, it's the perfect time to get those screens nice and sparkly. Over the drier spring and summer months, your screens pick up dust, dirt and other particles in the environment. Excess dirt can weaken the screen material, causing damage.
Cleaning your window screens will help extend their lifespan and save you money in the long run. After all, it's a lot cheaper to clean your window screens than it is to replace them.
Regular Screen Maintenance:
It's a good idea to engage in regular maintenance of your window screens so that they provide the best possible airflow and protection from the elements for your home.
You should take care to dust them at least once a month during your regular cleaning schedule using a soft cloth, duster or vacuum. This will cut down on the frequency of having to do a deep cleaning and make your deep cleaning sessions less of a hassle.
Deep Cleaning Your Window Screens:
Here are a few tips to make cleaning your window screens a little bit easier.
1. First remove your window screens completely from the frame. You never want to attempt cleaning the screens inside the frame as this could cause water damage to the surrounding areas of your home in addition to pushing dirt and debris into the crevices of your window casing.
2. As you remove each screen, you'll also want to make sure that you label each and their corresponding hardware to make putting them back in place afterward easier. To do this, label each screen with a number – we suggest using a piece of masking tape that you can remove later and putting any hardware in a numbered plastic bag.
3. Next, take the screens outside and place them on a surface such as a patio or your parkway. We suggest not doing this on a grassy surface as you'll add more debris to your screen and it will just get messy.
4. You could fill a bucket with warm soapy water, but we think using a spray bottle is much easier. So, fill a spray bottle with warm water and a squirt of dish detergent. For those of you more inclined to going green, you can also use a solution of 2 cups water, 2 cups vinegar and 2 tablespoons of lemon juice. Spray down your screens.
5. Using a soft bristle brush or a soft cloth gently scrub your screens and frame, making sure to get in any crevices. Rinse the screens with a garden hose and allow them to air dry before replacing them.
A word of caution: some folks swear by using a pressure washer to clean their window screens. While this might be slightly more efficient, it is not a good idea. The force from a pressure washer can weaken the screen material and cause it to break or stretch. If your window screen material happens to be made of aluminium mesh, clean with care as to avoid dents and creases.
6. While your screens are drying is a great time to clean out your window sills and the casements before reinstalling.
That's all there is to it! Cleaning your window screens once every 6 months will keep them looking great and make them last for years to come.
Got any home improvement tips you'd like to share with us? Let us know in the comments below!