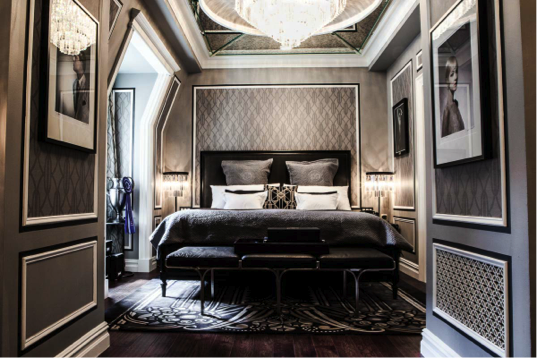 Using wallpaper in interior design in 2013
In this article, we take a look at the big comeback of wallpaper in interior design.  Bold patterns and bright colours offer a world of options to compliment the makeover of your room or home…
Wallpaper. If you were around in the 80s or before, the word may well make you shudder.
If you do remember the 80s, you're probably thinking 'overblown'. Every shade of dusty rose and peach. Bland pastels, chintz, ruffles everywhere and lots of rattan cane. And lots of wallpaper, often in dainty florals, with woodwork painted in an overly bright matching colour.
Enough to put you off the stuff forever, really.
But if you've had even a vague interest in interior design over the past couple of years, you'll know that wallpaper is back – with a vengeance! Yes, that's right folks – in this postmodernist era, everything old comes round again.
So, hail wallpaper!
Actually, some of it doesn't look half bad. Particularly when it's teamed with one of the new takes on a past era that is so popular right now. Brilliant Aussie designer Catherine Martin, wife of Our Baz Luhrmann, has recently collaborated with Mokum to bring out (surprise, surprise) a Great Gatsby-inspired range of wallpaper and fabric. They've recently decorated the Fitzgerald Suite at the Plaza Hotel in New York:
If you 'get' this Art Deco/Jazz Age look, it's probably because (unless you're a centenarian!), you weren't around back then to remember it!
(A word of warning: metallic wallpaper may be big time again, but it scratches easily, so beware if you've got kids or pets. OK for the Plaza, though! If your new wallpaper is likely to be subjected to small rough-and-tumblers, make sure it's washable.)
There's a theory that you only like a retro look when you haven't actually experienced it in its original form. For example, how many baby boomers truly like the current craze for 60s Scandinavian-type modernism:
If you're a groovy, 20-, 30-, or even 40-something, you'll probably love this look. And the feature mural-papered  wall is so 'then' (and now!). But if you're a groovy 50-, 60- or 70-something, you may well loathe it. It'll take you straight back to your youth – i.e. just look plain old fashioned!
However, there are some wallpaper trends around that are completely new, and which are pretty amazing. The move, for example, towards timber, stone and brick lookalikes, as seen in this bedroom makeover by Eurowalls:
It's hard to believe this is wallpaper, but the whole effect is to provide texture without the heaviness and cost of real wooden panels ( – although you could re-use your old windows and doors for this). Eurowalls' New England series is a standout.
The big, traditional wallpaper companies like Osborne and Little have, of course, beautiful matching and/or coordinating fabrics for virtually all their ranges.
But even they are also going in for some more out-there stuff.
The wallpaper and fabric company which has always looked wonderfully and startlingly fresh – for decades now – is Designers Guild
So much for the ooh-ahh stuff! Here's some wallpaper nitty gritty:
Wallpaper samples aren't usually big enough to get a real idea of how it will look when hung, so it's sometimes worth investing in a whole roll. You can attach a floor to ceiling strip to the wall with painter's tape. And if there's a big mirror opposite, the reflection will give you an even better preview.
Unless you're a real handyperson, it's advisable to call in a professional to hang your new – and usually not cheap – wallpaper. If you do DIY and then start to get into difficulties, don't hesitate to call in an expert to fix your mistakes – the sooner the better!
Be warned – your installer will always order extra (at least 10%) to cover contingencies such as corners, pattern matchups etc. Re-orders can sometimes take months to arrive, plus re-printings don't always exactly match, colour-wise.
If you're doing a wallpapered feature wall, paint the other walls the same colour as the background of your wallpaper, to pull the whole effect together.
If your house is old and characterful (read 'a bit crooked'), choose wallpaper with a busy pattern. Geometrics and stripes will only emphasise the flaws.
Lastly, wallpaper generally doesn't wear as well in wet or steamy conditions. This may be obvious, but use with care in kitchens. Plus guest loos may be more suited for wallpapering than bathrooms proper.
So, there you have it – wallpaper.
Are you tempted to take the plunge?
Wallpaper or paint, classical or contemporary. Whatever your look, Betaview has the right aluminium windows and doors to compliment it. Call our friendly team today for a chat and an obligation-free quote, right across Sydney, on (02) 9623 5611.