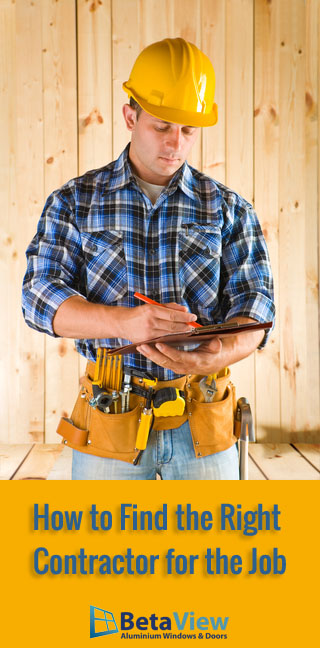 How to Find the Right Contractor for the Job
One of the most nerve-wracking experiences a homeowner can go through is giving over a project to a contractor.  We have all heard the horror stories from friends, family and acquaintances that hired a bad contractor and had to redo the entire home.  All that is needed to forego this horrible fate is to apply these simple steps to the process of selecting your contractor.
Find a Name
There are five ways of finding a contractor.  From the best to the worst way:
1)      Personal experience
2)      Recommendation
3)      Reputation
4)      Trade Association
5)      General Advertising
Personal experience is the best way to choose a contractor because it means you already have a work relationship with them.  If the contractor you know doesn't specialise in your project, ask them for a recommendation.  Since they have built a loyalty-based relationship with you, they will provide you with the best contractor they know.
If you don't already know a good contractor, ask friends, family and colleagues for recommendations or stories about their experiences with contractors.  If any of them have a positive story, ask for the name of that contractor. If that doesn't work, browse local home improvement websites.  There you will find the name of contractors with positive or negative reviews. Select the one with the best reputation.
Most trades have a specific association that contractors can join.  These associations usually work to govern their members to ensure that only those with positive ratings remain members.  The last resort would be to rely solely on general advertising.
Research, Research, Research
Even if you got your name from a trusted contractor, you should still go online and research the person or company. Look for the contractor's license and search for any infractions that may have occurred with the trade association.
How long has the contractor been in business?  The longer the better – it means that they have had enough business over the years to stay on the market.
Is their contact information just a cell phone number or do they have a physical office space?  Look for the latter – a physical office space means that they exist in real life and not just in cyberspace and it means you can go talk to someone in person if things don't go well.
Only after you have confirmed all of the above should you look at reviews and references.  Go to local home renovation websites; if the company has a testimony posted on their website, see if you can contact the author of the testimony. If everything checks out, then contact the contractor and set up an interview.
Interviewing Isn't Just Asking the Right Questions
There are several qualities in a contractor that you should look for first and foremost before you start asking questions.  Those are: professionalism, punctuality, clear communication and chemistry/rapport.
If the contractor arrives late, looks like he just rolled out of bed, mumbles and doesn't listen to you, just walk away.  This is a business meeting for both of you; he is interviewing for a job.  Both parties should approach the interview with that mentality.  If the contractor doesn't, then you know he won't give your project the attention it requires.  But, if he does and you find that the two of you get along well, then you should proceed with the interview.
What are the right questions?
Here are a few questions you should ask:
1)      What sort of experiences have you had with this type of project?
2)      Who will be at the site and how will it be supervised?
3)      What is the projected timeline?
4)      Can you provide any guarantees? (get them in writing)
5)      Can I see an itemised price estimate?
6)      What is the expected down payment?
7)      Who do I pay/make the cheque out to?
8)      What sort of permits will I need?
For project specific questions, do an online search, look at a few different websites and compile a list of questions from your research. The more you read about your project, the more questions you'll have, which your contractor should be able to answer. 
The more you know about your project and the contractor you want to hire, the more secure you will be in the knowledge that the person working on your home will be everything you expected. All it takes is a little advice, a lot of research and some key questions to give you peace of mind and a great home improvement story.