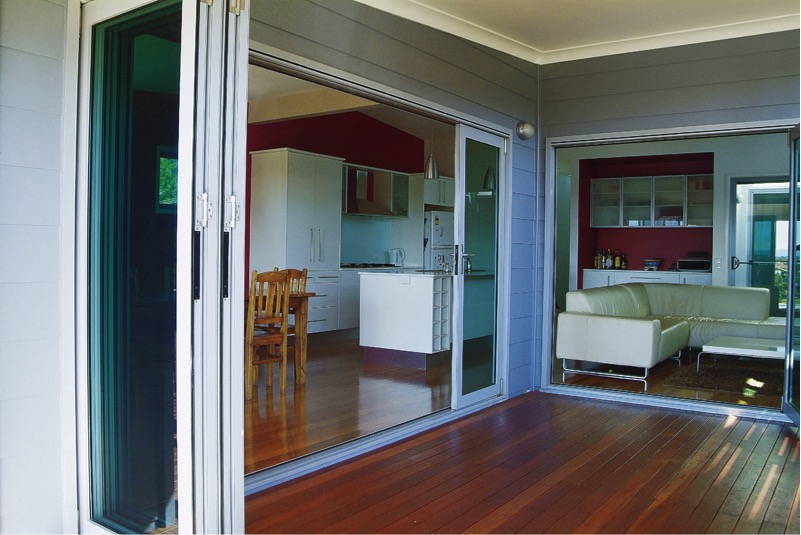 Aluminium doors for bedrooms
If you're lucky enough to have a bedroom that opens up to a lovely outdoor area or balcony, you may be wondering how to best maximise the space and provide a wide thoroughfare from the inside to the outside with a new set of doors. Maybe your old, weathered doors are in need of replacing, or perhaps you'd like to make the door opening wider to let more light in, and brighten up your space.
Whatever the case, there are a few different options to choose from which can really help to make your bedroom look and feel more spacious, airy and light-filled. Which option is best will depend on the available space you have at your home, whether or not you have any angled walls, and of course, your personal design preference.
French doors
Great for:
Larger bedrooms

Outdoor areas with good space around the door opening

Older style homes
French doors are a great way to get that ultimate resort-feelin your home. Throw them wide open, pair them with stylish curtains that blow gently in the breeze, and you have the perfect way to make bedroom feel larger than it already is. However, if your bedroom is only small, then French doors may not be the way to go, as they do take up quite a lot of room when open, and may hinder your ability to place furniture in your room. Read more about our French Door here.
Bifold doors
Great for:
Bedrooms that open up to a large outdoor or balcony space

Bedrooms with a long wall adjacent to the balcony or outdoor area
Bi-fold doors are perfect if you want to be able to transform the entire wall between your bedroom and outdoor area into one giant thoroughfare. However, they tend to work best if this wall is a particularly long one, as the doors need to have at least 2 panels which open up and stack on top of each other.
You'll also have to decide whether you want doors to "stack" to the left or right. Generally bi-fold doors can be configured either way and will normally depend on the size/available space of your your outdoor area. You have the option of single side stacking, where all the panels stack to one side, or double side stacking, where the panels open up in the middle and stack to either sides of the opening. More on our Bifold Door.
Sliding doors
Great for:
Almost any situation

A more frugal option over Bi-fold doors

Smaller openings
Sliding doors are a classic favourite and one of our most popular door styles – and for good reason too. They work in just about any situation, whether or not you have a whole lot of space on the inside or the outside of your home, as they take up roughly the same amount of space whether they're open or closed. They're also quick and easy to open and close if you just want to duck out of your room to enjoy your morning coffee outdoors.
If the wall of your bedroom which joins the outside is a little longer, then you may want to consider choosing a sliding door configuration with four panels, in which the two outermost panels are fixed, and the two inner panels open in opposite directions.
If the wall is still too long for this option, then sliding stacker doors may be the way to go, which we'll cover next. More on our Sliding Door here.
Stacker doors
Great for
Bedrooms with long walls

Bigger openings

Making the most of your space
Stacker doors are similar to sliding doors in that there are no panels which swing outwards or impede on your space when they're open. However, if you want to have a configuration with more than two panels, then the sliding panels will need to slide and "stack" on top of each other when they're open. Similar to sliding doors, stacker doors can be configured that they open outwards from the centre, with the panels stacking on either side of the wall.
More about our Stacker Door here.
If you'd like any professional advice on which types of doors would work best in your bedroom, feel free to contact us today, and a member of our friendly expert team can come to your home to take measurements and give you personalised recommendations