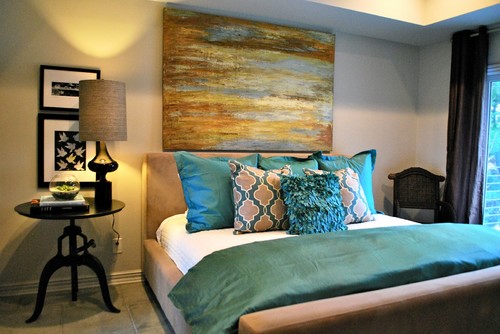 Aluminium Window Styles and Tips for Sydney Bedrooms
 Your bedroom should be your oasis … a place to relax and shrug off the everyday worries and stresses you encounter. And if you are building a new home or renovating your existing residence, it is important to consider installing new aluminium windows. With older homes, chances are your existing windows are no longer efficient. Choose windows that allow you to bring light into your space as well as fresh air and proper ventilation.
Eclectic Bedroom by Other Metro Furniture and Accessories
Airflow and Ventilation Important
Have you ever been cooped up in room without windows or one that did not have functioning windows? It was stuffy, wasn't it? Why would you put up with that in your bedroom? You need fresh air and proper ventilation. Without them, your bedroom likely will trap humidity which could lead to condensation on the walls and mould growth. In addition, dust mites are more likely to flourish as well, causing allergic reactions or even compromise certain health issues like asthma and other bronchial problems.
Options for your Bedroom Windows
The rising popularity of aluminium doors and windows is a good indicator that they are a great choice for your home. With aluminium windows, you can enjoy their strength and resiliency. They are less likely to be dented, are lightweight and stylish and come in a variety of colours. Because they are not bulky, unlike other alternatives, you can enjoy more light. They also do not require regular maintenance as wooden ones do.
Your home's style, available space and structural integrity will often dictate the type of aluminium windows you choose. For instance, if your windows need to be placed on high walls, then the awning style would be a great choice. They can be placed next to other windows or even above other windows, particularly stationary ones. These awning windows are hinged at the top and open out which provides not only great air flow and ventilation but also some protection from the elements such as a light rain.
Double hung bedroom windows work great whether you are shooting for a contemporary or even a more classic overall design style. These windows also offer excellent ventilation and light properties. The bottom sash slides up while the top one can slide down, showing great versatility in the bedroom.
The good news is that aluminium windows prices have never been better. You can create a whole new look in your bedroom on a realistic budget and enjoy fresh air, natural light and great style all at the same time. Get in touch with one of our experts at BetaView for a free in-home Supply and Install consultation.