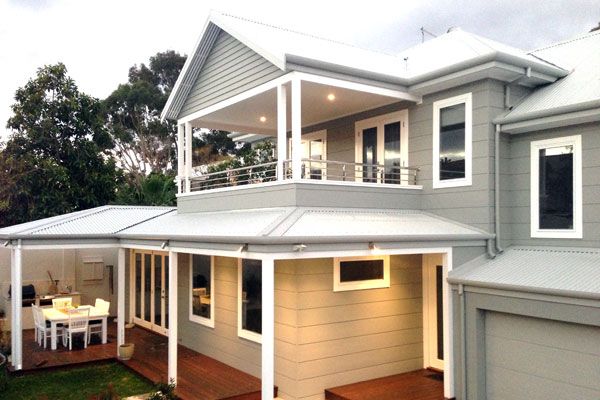 Aluminium windows for weatherboard houses
Many people think that just because you have an older style house, such as one made of weatherboard, that you can't update it with modern trimmings like industrial furniture, new architectural features like pergolas and decks, or even modern aluminium windows and doors. But just because you have a house that's been built in a more traditional or classic style, doesn't mean that you can't enjoy the benefits the latest technologies that have been developed in the world of construction and home design. Nowadays, some weatherboard houses are even being built using aluminium, so there's no reason why this traditionally quaint and cute home style can be successfully updated with a modern twist.
In today's post, we've given you some tips, advice and things to keep in mind when choosing aluminium doors and windows for your weatherboard house.
Determine the type of look you're going for and choose window configurations accordingly
The first thing you'll need to decide is the configuration and design of your windows and doors, and how this fits in with the existing style of your home. French doors look stunning in weatherboard homes, and give an airy, summery feel. Likewise, double hung windows suit the classic weatherboard design, as evidenced by home decor genius Katrina Chambers' home:
Image source: Katrina Chambers
Awning windows, traditional sliding windows, and louvre windows  tend to be more modern-looking styles, and generally look best on more recently-built weatherboard homes. However, these aren't hard and fast rules, and it will depend on what you're working with. The best way to determine which types of configuration are best for your home is to firstly look at plenty of photos online (Pinterest is a great resource here) and then book a consultation with a professional and chat to them about the kind of look you'd like to achieve with your new windows and doors. They'll be able to recommend the best styles for your existing space.
Choose window and door colours wisely
When it comes to ensuring your aluminium windows and doors don't clash with your existing house, it's important to choose a provider which offers plenty of colour options, as this will strongly influence the finished look. A classic silver anodised aluminium finish might look great on modern, industrial-looking weatherboard homes, but won't necessarily suit a classic turn-of-the-century white weatherboard cottage, so choose colours wisely. The colour of your existing weatherboard will also play a role (although generally, weatherboard can be painted, depending on what material it's made out of).
Classic grey, white or beige weatherboard tends to look great when paired with equally neutral shades of window and door frames. For a fresh, crisp look that says "Hamptons" perfectly, stick with classic pearl white aluminium windows. Yor darker shades of weatherboard, like dark grey, you may want less of a stark contrast, and opt for beige or cream coloured window frames rather than white. However, we do love the classic look of white against dark walls and roofs. 
Image source: Delikatessen 
Energy efficiency considerations
Older weatherboard homes tend to have been built without any insulation inside the walls, meaning they can get very hot in summer, and cold in winter.
Replacing windows in the first place is a good first step to improving your home's ability to retain heat in winter and stay cool in summer, as is choosing the right type of glass. Ideally, you'll want to choose something like double glazed glass – However, this pricier type of glass won't be worth spending the extra money on if your house still has other concerns like draughts caused by gaps between old, deteriorated boards, and lack of insulation in the walls.
To get the maximum energy efficiency out of your home, you may want to consider undertaking some other improvements to improve overall insulation, as well as choosing the best energy-efficient types of glass, and ensuring your windows are installed by a professional installer to ensure there are no gaps in the seals.
Read more about heating and cooling considerations for an older weatherboard house on the Australian Sustainability Victoria website.
Image source: Pinterest
Installing your new windows
Caution needs to be taken whenever replacing existing windows of a weatherboard house, as some (although very few) weatherboard houses may contain internal cladding which is made of asbestos. A professional window installer will be able to take a look at your home before beginning any alterations to the size of the window opening (if these are needed) and identify if there is any asbestos that needs to be professionally removed.
—
For more interesting information about the history of weatherboard homes (as well as some seriously stunning inspiration photos of both modern and classic weatherboard homes), check out the following post on Houzz.
Need professional advice on which types of aluminium windows and doors would be best for your weatherboard home? Get in touch with us and request a free consultation at your home with one of our experts.