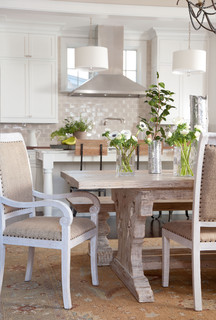 6 Solutions to Get More Natural Light From Your Windows
Whether your home is a new build or a classic beauty, one thing is for sure: you can never have enough light!
The lighting in your home can change the vibe of a room dramatically from dark and drab to bright and cheery. But, not every room has big, bright awning windows that let the sunlight just stream in so, here are a few ideas that can help you make the most of the natural light you're already getting.
Clear the Clutter
"A cluttered home is a haven for shadows…"
Do you know which famous interior designer coined that quote?
Actually, we did and with good reason. If you really want to open up your home for better lighting, the first step is to cut down on the clutter. And, you don't have to wait for spring to do a little "spring cleaning".
Be merciless when going through your belongings, give away stuff you aren't using or hold a yard sale. Now is the time to assess your furniture and get rid of pieces that take up too much space or are outdated.
This is also a good time to decide which pieces you absolutely want to keep and whether it might be possible to give them some new life with a coat of paint or fresh upholstery. Dark furniture can get a new lease on life with a bright paint color or a lighter fabric and instantly make your space feel much more open and airy.
Change Your Overhead Lighting
Though most people prefer natural light, changing your overhead lighting can make a huge difference in lightening up a space. Go for lighting fixtures that have a cool white shade instead of one with a warm yellow glow. Adding a chandelier-like piece with reflective crystals can also increase the reach of natural light in your room.
These pieces don't have to be huge and intricate either. In fact, there are plenty of modern lighting fixtures that incorporate reflective surfaces like metal and crystals that are very sleek and sophisticated. We think this one in the photo below is a great example.
Speaking of Reflective Surfaces
Mirrors are a great way to introduce natural light into dark corners and closed in spaces like hallways or foyers. They are best used by placing them opposite your windows so that they reflect daylight into the rest of your room.
This is a technique that a lot of professional designers use to lighten and brighten a space and it's almost as good as having an additional wall of windows in places where doing so isn't possible.
Mirrors work well in locations such as above a fireplace, sideboard, sofa or in a hallway.
Another technique used by designers is to subtly layer reflective surfaces using accessories. To do this, simply choose accessories that have a shiny, reflective surface such as metal, glass or crystals. Mixing these in with your other accessories can help draw light into darker areas of the room.
Lighten up Those Walls
One of the best known ways to brighten a room is paint it white but, take a tip from the designers on this one too: never paint a room just "off white". Go for a white hue instead.
Here's how to find your white hue, compare whites to a standard "ceiling white" you will see that whites are actually hues such as red, yellow, blue, etc. Much like the very lightest pastel, you will see that there are many versions of white.
Paint your ceiling a slightly lighter color than your walls but, a darker colour than your trim to give your room a "lift"
Remember, when choosing light colours for a room, go for a monochrome look . Add layers in the same shade to add depth and interest while keeping your room light and airy.
Open Up Your Windows
An older home has a certain charm to it; original moulding and fixtures, hardwood floors and oftentimes, smaller windows. However, there are a number of ways to open up your windows and let some additional light into an older home.
One solution is to replace smaller windows with a new floor to ceiling installation or continuous bank of windows that can really let the light in. Depending on the location and type of the installation, you might even be able to incorporate an additional entry/exit into your home as well.
Some older homes also have rooms that simply lack windows at all or just have one small window. Again, depending on the location of your room and your budget, adding windows to a room that lacks light might be the perfect solution.
Once you have a great set of windows in your home, don't cover them up! Hanging light coloured curtains just a little bit wider than the window itself will ensure maximum day-lighting without compromising your design.
Remove Doors and Walls
Whether your home is large or small, one way to open up your space to additional daylight is to remove doors or even an entire wall. This works well in common spaces such as living/dining/kitchen areas which could also benefit from having a more open floor plan.
The benefit to doing this is twofold: not only will you be able to introduce more light further into each room, but having an open floor plan does wonder for making small spaces appear much larger than they are.
So, there you have it – six solutions that you can use today to begin lightening and brightening your home. Now, it's your turn: what are some techniques that you've used to brighten up a dreary space?