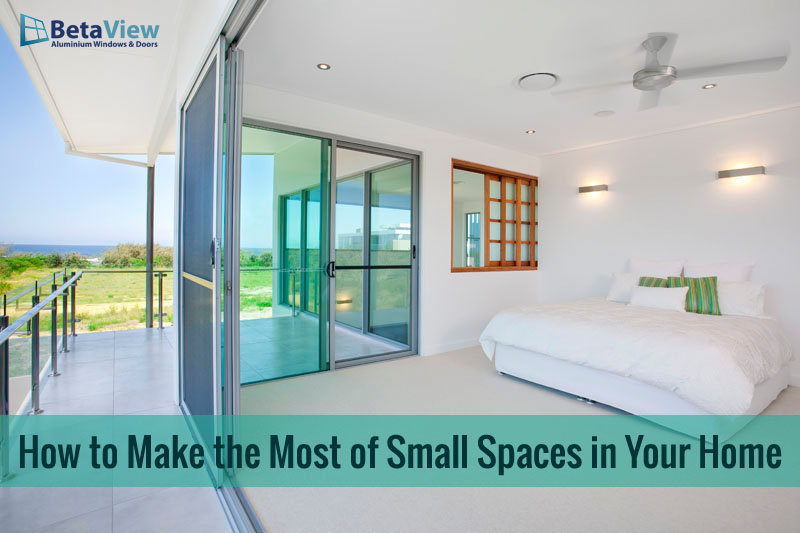 How to Make the Most of Small Spaces in Your Home
Not many people are lucky enough to live in a mansion surrounded by several acres of land. Most of us find the best balance in life is often by living on a housing suburb next door to similar properties.
Sometimes this means that some of the rooms in your home aren't quite as large as you would prefer. You can make the most of this by installing aluminium sliding doors to best utilise the space and allow light in, but it's also important to look at how your decorating uses small spaces to make the most of your property.
Smaller Properties are Extremely Popular
The poor economy and the long years of high real estate pricing has caused many people to be cautious at looking at larger homes. The trend is Sydney is towards apartments and townhouses. This allows you to keep mortgages and other living expenses down. This will help if there is another economic downturn.
Also many people are finding it is better to upgrade and renovate their current property rather than moving. A great addition is replacement bi-fold doors. This allows you to improve and add value to your current home rather than trying to sell and move to a bigger property.
Nevertheless, smaller properties with smaller rooms can still be extremely multifunctional and great looking.
Using Colours and Furniture Properly
High quality aluminium sliding doors will provide you with a feeling of extra space on the outside of your room, but choosing furniture that is efficient yet perhaps smaller than average can give you the feeling of more available space in your room than you probably imagined would be possible.
When you are a couple with one or two children and occasionally entertain friends around a dinner table or outside for a barbecue, you won't need enough sofa space to handle twenty people in your living area inside your home or a dining table big enough to hold 10 people at a time.
The effective use of good storage facilities throughout your property will enable you to keep the items you need at hand, but not out in your living area where they will clutter the rooms are make them look small.
The use of bi fold doors means that furniture can be placed quite close to door and window areas without restricting the area where a door. The reason for this is a BetaView Bi-Fold door open outwards.
As you explore your entire home and look at you can make the most of small spaces, it is best to sit down and create your master plan so that you can decide what must stay in your property, the items that can definitely go and then agree with all of your family members about the items that you would like to keep, but don't necessarily have to.
It's good to look at areas where furniture can double up its use. For example, a dining table in the morning and in the evening can double up as an office desk during the day which means that your views from your windows or sliding doors can remain a pleasant sight to help you work throughout the day.