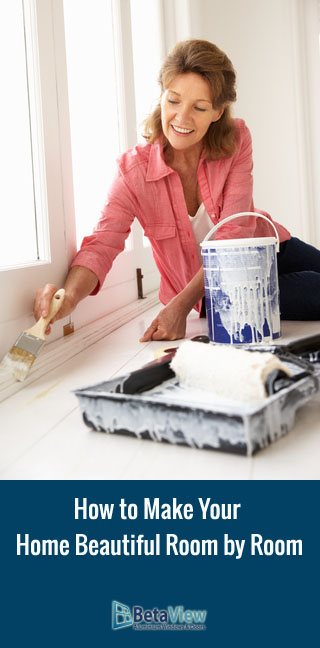 How to Make Your Home Beautiful Room by Room
Everyone wants that perfect home. You know the one I'm talking about – the house with the expertly designed rooms featured in magazines and on home renovation shows. But how do you go about giving your home a facelift without the help of an expert interior designer? The key is to plan each room – give it a purpose, decide on a style and choose your colour palette for each space. These three things give a room its cohesive look and add a little bit of you to the space. 
Purpose
Each room in a home serves a purpose. Walk through your house and decide what each room should be doing to make you feel comfortable and happy.
The entrance way should be warm and inviting, welcoming your guests as you walk in. The kitchen should be organised and efficient, a place where family dinners can be made with ease. Your living room should be a place of relaxation; a place where you can sit in comfort and read, watch television or chat with your family over a board game. Bedrooms, bathrooms, guest rooms, offices, studies… the list goes on and each room serves a specific purpose. If it doesn't, then it's wasted space that you could put to use.
Before you can give the interior of your home a true facelift, you should take a tour and assign specific purposes to each space. This will help you decide how best to reorganise, redesign or reassign each room.
Style
The style of a room provides a guideline for the objects that inhabit the space. Each piece that goes into a room won't look exactly the same, but it will fit within the broader category of your chosen style. For example, if you have an industrial style living room, you will have warm, neutral tones filling your space.
Exposed brick, steel structure, concrete floors, rough timber tables, unique furniture pieces that are reminiscent of mechanics or engineering – these are all elements of industrial design that will make it into your living room.
Once you have picked a room to improve, browse through the interior design styles online and pick one that you feel best suits the purpose of the room. Look at pictures of the different items that fit within that style. You should also note whether or not your selected style is symmetrical or asymmetrical. If it is asymmetrical, that usually means you will want to mix and match your accessories rather than having even numbers of each piece. 
Colour Palette
Now that you have a purpose and style for your space, it is time to get out the paint samples! Select a wall colour then pick and choose your accent colours. You usually want two accent colours that will be used for pillows, curtains and other accessories. Remember to keep within the style and purpose.
If your room is Victorian style and is to be an impressive space for entertaining guests, look for the main colours of that style: rich dark burgundies, plums, rubies, emeralds, forest greens and navies. Then, pick your main colour (the one for the walls) and the accents (the ones for the decorative pieces). Once you have picked your colours, look for an interesting pattern that fits within your style.
A strong pattern used for one or two objects will draw the eye and complement the solid colours on your walls. When you have picked out your three colours and pattern, paint your walls and browse the stores for pillows, curtains, storage boxes and other accessories. 
Have all the furniture you need?
Once you have selected the colour of your walls, walk through your home with the colour sample and find a selection of items that will suit the purpose and style of your room. Relocate these items to the room you are working on. If you have furniture, like a living room set, that doesn't fit with your newly chosen style, look into having the set reupholstered or invest in slip covers in a neutral colour or complementing colour. 
Giving your home a facelift should be fun and the result should be something that makes you sit back and relax. All you need to make your home look like a professional has designed it is a coherent purpose, style and colour palette.