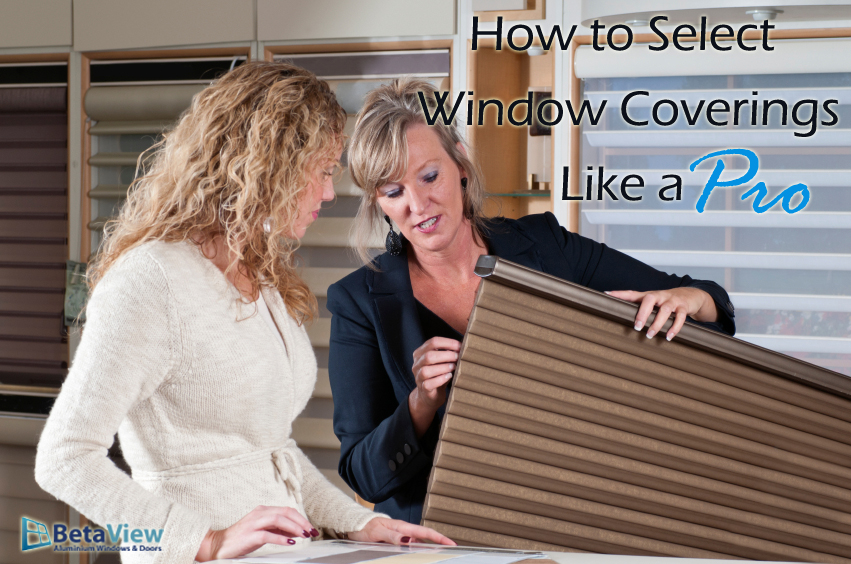 How to Select Window Coverings and Treatments Like a Pro

Curtains or Blinds?
That is one of the first questions that many homeowners ask themselves when they get new windows installed in their homes.  Maybe you've changed the type of windows in your home completely, going from a shorter double hung window to full length, floor to ceiling louver windows.  The decision to put up curtains or blinds is as much a personal one as it is about aesthetics, comfort and privacy.
Maybe you love the idea of leaving your windows bare with just a simple shade or blind to keep the look clean and minimal.  Even then, installing blinds is no simple matter with all the options to choose from. 
If you are looking for additional privacy or to pull a design together, then hanging up a set of curtains may be the solution for you.  Whether you decide you put up blinds and go minimal or deck your windows in the finest silk, knowing your options is crucial to making the right design choice for your home.  Let's have a look.
Choosing the Right Blinds for Your Windows
Throwing a set of blinds on your windows and calling it a day sounds like a simple task but, did you know that there are literally hundreds of window blinds and shades on the market?  That's just the tip of the iceberg and the subject of another post!  The real question that you need to ask yourself is: vertical or horizontal?
Vertical Blinds
Vertical blinds work well for floor to ceiling windows, sliding windows and doors.  The benefit to vertical blinds is that they provide a more efficient opening for doorways, are easy to clean and are less likely to suffer damage from children or pets.  They also come in a variety of materials from aluminium, wood and PVC to name a few.
Horizontal Blinds
If you have a shorter double hung or a bay window, horizontal blinds are a great choice. These work best for windows that are a few feet from the ground and that open out or up.  The downside to horizontal blinds is that they can be easily damaged and tend to be a little more difficult to clean.
Choosing the Right Curtains
Curtains can really make a statement in a room and the creative possibilities are endless.  From light and airy to romantic and dramatic, curtains can be layered, paired with window blinds or go it alone.  The amazing thing about them is that they can also be used to create the illusion of much larger, grander windows as well.
Solutions for Small Windows
Believe it or not, small windows open you up to more possibilities when it comes to selecting curtains.  For instance, a small window can easily accommodate curtains that fit it to size, such as café curtains on a small kitchen window. 
However, it's also possible to "cheat" a smaller window into appearing larger by hanging longer curtains slightly higher than the top of the window.  You can also make the window appear wider by extending the curtains a few inches beyond the edge of the windows as well.  Here is a great tutorial on exactly how to do this that is worth checking out.

Solutions for Large Windows
If you have massive windows in your home and are stumped when it comes to selecting the right window treatment, you're not alone.  Large windows can be tough to figure out when it comes to creative solutions, but we have a few ideas that will make decorating yours a breeze.
Solution #1: Do Nothing

That's right, if you have large floor to ceiling windows sometimes, the best course of action is to leave them bare.  Windows like these are architectural features on their own.  Besides, why obstruct the amazing view with a piece of cloth, right? Instead, consider installing an automated shade system that can be used when you want more privacy.
Solution #2: Just a Little Off the Top
A more traditional solution would be to just add a valance to the top, which also works just as well for smaller windows too.  This is a great choice if you want to add a little drama to your windows without the maintenance of full length curtains.
Solution #3: Go Big or Go Home
Sometimes you just have to go all the way and what better way to do so than with full length curtains?  The type of curtains you select will depend on your needs and the look you are going for.
A set of heavy silk, damask or satin drapes tied off with tassels would look stunning in a more traditional home.  Sheer, breezy linen curtains are more fitting of a beach or lake house. 
Also, consider your needs for the room you'll be installing them in.  Will they be in a bedroom where you might need to block out sunlight or in a sitting room where you want to take advantage of daylighting?
Selecting the right treatment for your windows can really enhance the decor of your home.  From minimal and easy to care for to lavish and luxurious, the solution you choose is a reflection of your design tastes.  By making the right choice for your window type, you'll be able to execute the look you love with ease and finesse.
Do you have any tips for selecting window coverings you'd like to share with us? Let us know in the comments.