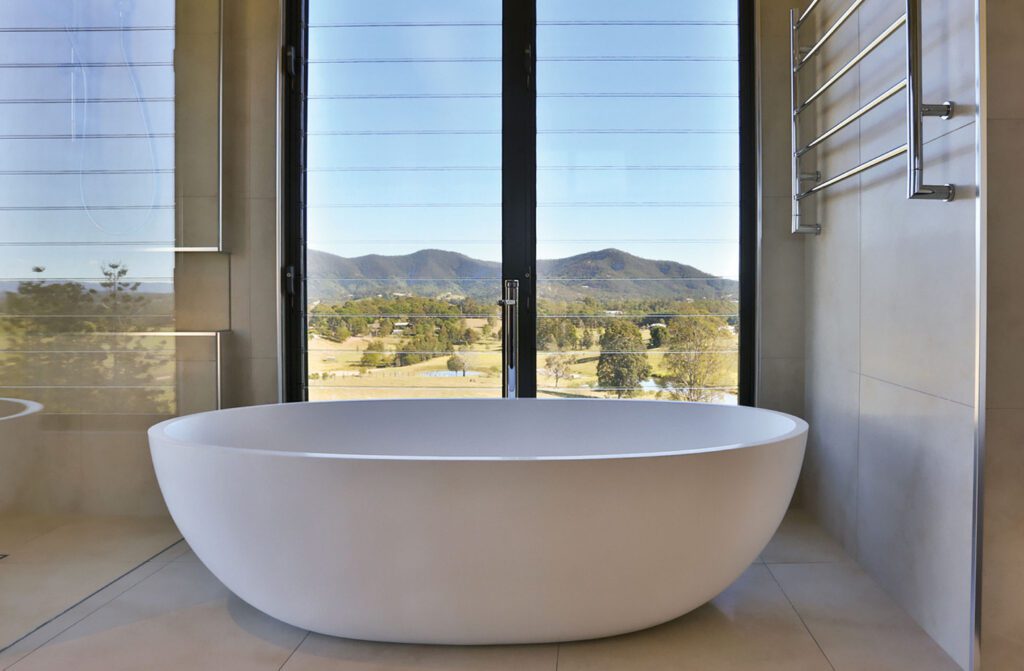 What to Consider When Choosing Bathroom Windows
If you're currently building a new home, or renovating an existing property, you'll know how important it is to research all the materials and options for each space. Depending on what stage your works are in, you've probably also realised that there is a lot to learn and so much information out there that it can get a little confusing. With that in mind, we're going to look at Aluminium windows for bathrooms specifically, and share our knowledge of what to look for and what to avoid.
4 factors of Bathroom Windows
Style, placement, privacy and light are four of the most important factors when looking for bathroom windows. These all contribute to the overall aesthetic you're trying to create, but also serve a practical purpose.
Style | Aluminium Windows
Style is easy to get carried away with and we've all seen those #bathroomgoals posted on interior design blogs and wondered how we can turn our tiny apartment bathroom into a Roman inspired palatial space. But here in the real world of space and budget restrictions, our focus in regards to style tends to centre around the items in the bathroom more so than the walls surrounding it. However, when you think about it, a window is often the primary source of light in the room and therefore a salient feature that's gazed upon almost immediately when entering the room. Furthermore, the light that pours in through the window positively affects the way the bathroom looks, giving it a beautiful, inviting glow.
Conversely, you don't want the window to be the primary ongoing focus of your bathroom. The key here is a balance between alluring design and minimum distraction. Aluminium windows do exactly this as they provide a modern, minimalist aesthetic to your bathroom. The clean lines, elegant but subtle textures, colours, and the variety of window types provide limitless versatility, allowing to make a feature of them, or allow them to blend away in the background for perfect ambience.
Types of Aluminium Windows
Sliding windows are a popular option for bathrooms as they allow plenty of movement and options within small spaces. Moving the sections horizontally allows you to circulate air without impeding internal and external space, and light, while simultaneously allowing you to make the most of a small opening.
Double hung windows provide a practical vertical solution to small spaces. They allow great ventilation, with a simplistic and elegant design. You can have one or two moving sashes (window segments) to best suit your living situation. For example, you can have a double hung window with only a top moving sash so it's safe out of reach of small children.
Awning windows, that are hinged at the top, with a controlled opening are another option for bathrooms as they allow easy airflow control, can make the most of small areas by extending externally only, and are classic and elegant in design.
Bi-fold windows could be an option for bathrooms, however, they are more suited to areas where privacy isn't a key focus. However, should you have a bathroom with an unimpeded view, and total privacy for example, then this option could make the most of a large opening.
Louvre windows offer a modern design aesthetic with unparalleled airflow control. Allowing multiple sections to open, and the degree to which they open allows you to turn a small opening into a stylistic advantage.
Placement of Aluminium Bathroom Windows
Placement is another strong consideration during your renovations. As you no doubt have guessed, many of the aforementioned factors affect each other. Placement has a significant bearing on the privacy, light and style of your bathroom. If you're renovating a current bathroom, then it's very likely that you will be leaving the window in the same location. If this is the case, it's more beneficial for you to consider the style of the window in order to make the most of an existing place. If you're building from scratch and reading this blog, then you may have already had an architect design your home, but here are a few points they would've considered when designing your bathroom.
The exact location of your home will play a part in the correct placement of your windows. Depending on the way the sun moves in relation to that room in your home, the placement of the window can be optimised for maximum light coverage, or strategic avoidance of direct light, depending on your goals. The placement can also be guided by the layout of mirrors or certain artworks or features that you wish to highlight. And last but definitely not least, ensure your placement doesn't compromise your privacy. As mentioned previously, these considerations are best left to the experts, but it's worth keeping an eye on your designs in relation to your surroundings to avoid any unwanted surprises.
Ensuring your Privacy
Privacy is of course a pivotal factor with your bathroom, and as nice as floor to ceiling glass windows looking out onto your secluded area of untouched beach may sound, reality once again intrudes and those situations are only available to a lucky few. Bummer right?
When looking to increase the privacy of your bathroom, consider the areas of visual ingress externally. Where do your neighbours windows face and from what room? Is there a view you wish to observe from that room? Does a certain placement allow visibility to other sections of the home you're not comfortable with? While these will be considered by the architect and builders, it's important to seek consultation from Betaview about the best window solutions for your wishes.
Let there be Light
Light is important for any room, but the bathroom is special as the amount of pale and mirrored surfaces play with the light in an elegant way, adding to the ambience and comfortability of the room. Natural light also has the practical element of letting in warmth which is great for bathrooms as it dries the area more quickly, severely decreasing the chance of mould, or damp towels.
This is just the start | Aluminium Window Consultation
The above categories are just some of the considerations made when you engage Betaview for your aluminium bathroom window solutions. Our consultants can't wait to meet you and discover the optimal solution to match your design vision. We're the supply and installation experts in aluminium windows and can help you navigate the options available, translating technical language into beneficial ideas, and fully installing your windows using our professional team of tradespeople.
We can't wait to meet you!
We warmly welcome you to call us on 1300 725 719, visit us at our showroom located at 15 Dale Street, Brookvale, NSW, 2100 or arrange a free consultation and quote.